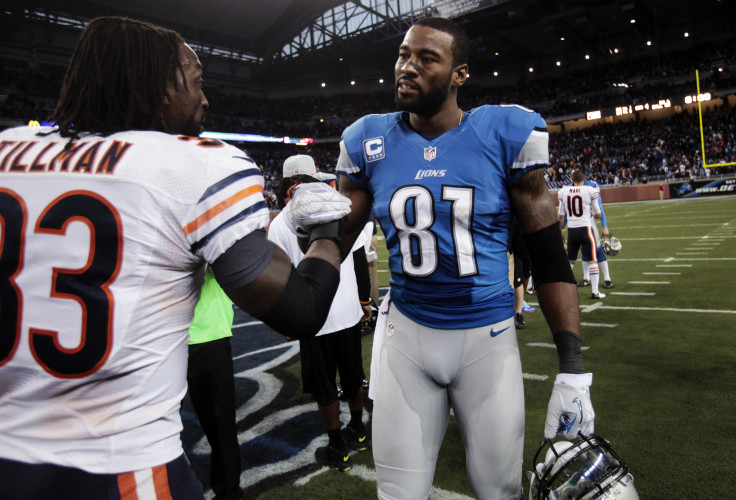 It's not Thanksgiving without a Detroit Lions home game and this year is no different. While the turkey is in the oven, take a seat around the television and enjoy the first of a trio of NFL Thanksgiving games when a pair of NFC North rivals clash in the motor city.
The Bears (5-6) come into the game having won two straight and need to continue their streak if they want any chance of making the playoffs. Chicago will need to buck a trend of losing on the road to teams with winning records if they are to accomplish such a feat.
The Lions (7-4) enter the game going in the opposite direction of the Bears. The Lions have lost two straight and have not scored a touchdown since November 9th in their 20-16 last second victory over the Miami Dolphins. Detroit kicked a combined five field goals in back-to-back road losses to Arizona and New England.
"If I knew what was wrong, I would have already fixed it," said Lions superstar, Calvin Johnson. "We still have time to get things going in the right direction."
The Lions defense is one of the best in the league so their struggles can be blamed entirely on their offense. With injuries this season to Johnson, Reggie Bush and Joique Bell, the Lion's average 17.9 points per game, ranking them near the bottom of the NFL in that category. Needless to say, that's a far cry from their offensive output in years past.
"Their offense is up and down at times but I'm sure they'll play well on Thursday," said Bears quarterback Jay Cutler. "They're reeling a bit, so we're going to get their very best shot. They're going to be ready for this one."
Cutler has been up and done this season as well. The Bears are averaging nearly a touchdown less per game than they did last season, but they will need to ramp up their offense in order to conquer the Lion's stingy defense.
The Bears offense hasn't been the problem as much as their defense has been. Chicago has been riddled with injuries on that side of the ball and will be without Lance Briggs and Kyle Fuller on Thursday.
The Lions had lost nine-straight games in their annual Thanksgiving game before last year's 40-10 rout over the Packers. They have played the Bears a total of 15 times on Thanksgiving with the Bears winning 8 of those matches at Ford Field. The last time the two teams met on Thanksgiving Day was in 1999.
The game is set to kick off at 12:30PM EST from Detroit, Michigan. The game will air live on CBS with pregame coverage starting at noon eastern.
© 2023 Latin Times. All rights reserved. Do not reproduce without permission.