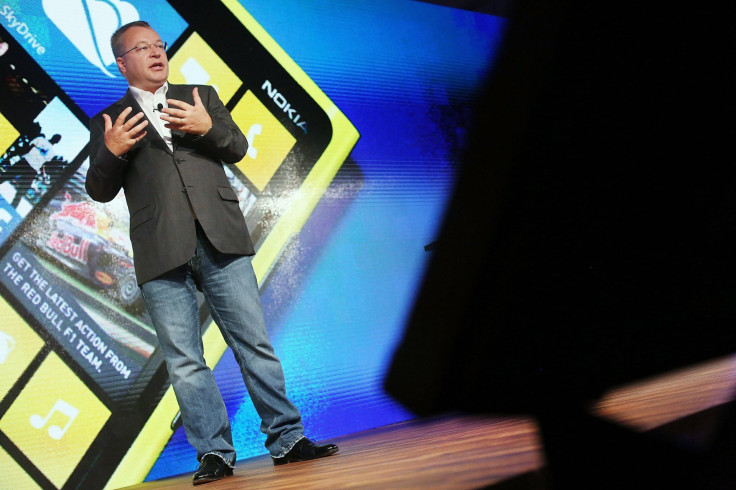 Microsoft Corp. is buying Nokia Corp.'s lineup of smart phones and a portfolio of patents and services in an attempt to become a more formidable competitor to Apple Inc. and Google Inc., as more technological tasks get done on mobile devices instead of personal computers. Microsoft announced late Monday it is buying Nokia's smartphone and cellular handset business in a deal worth $7.2 billion.
As part of the deal, Microsoft will own the company and is paying $5 billion to buy Nokia's Devices & Services unit and an additional $2.2 billion to license Nokia's patents. Stephen Elop, the former Microsoft executive who was running Nokia until the deal was signed, will rejoin Microsoft after the transaction closes, setting him up as a potential successor to Steven A. Ballmer, Microsoft's chief executive, as he has said he will retire from the company within 12 months.
Elop will step aside as Nokia's president and CEO to become executive vice president of Nokia devices and services in preparation for joining Microsoft once the acquisition closes. Chairman Risto Siilasmaa will stay in his current role and assume the duties of interim CEO.
"Nokia and Microsoft have always dreamed big," said Ballmer and Nokia chief Stephen Elop in an "open letter" blog post. "We dreamed of putting a computer on every desk, and a mobile phone in every pocket, and we've come a long way toward realizing those dreams. Today marks a moment of reinvention."
"This agreement is really a bold step into the future for Microsoft," Ballmer said to The New York Times in a phone interview from Finland. "We're excited about the talent capabilities it will bring to Microsoft." Ballmer and Elop added in their post that the deal will bring Nokia's capabilities in hardware design, engineering, manufacturing, sales, marketing and distribution to Microsoft. "For Microsoft, this transaction is the key next step in furthering the company's transition to a devices and services company," the statement said.
Nokia, based in Espoo, Finland, and Microsoft have been trying to make inroads in the smartphone market as part of a partnership forged in 2011. Under the alliance, Nokia's Lumia smartphones have run on Microsoft's Windows software, but those devices haven't emerged as a popular alternative to the iPhone or an array of Android-powered devices spearheaded by Samsung Electronics' smartphones and tablets.
This will represent the second most expensive acquisition in Microsoft's 38-year history, ranking behind an $8.5 billion purchase of Internet calling and video conferencing service Skype. Tony Bates, who ran Skype, is also regarded as a potential successor to Ballmer. The money to buy Nokia's smart phones and patents will be drawn from the nearly $70 billion that Microsoft held in overseas accounts as of June 30.
For a company that is trying to turn itself into a direct rival to Apple and Google, Microsoft has completed a key step: it will own a handset business, like Google owns Motorola, bought for $12.5 billion in 2011. Being bought by Microsoft means Nokia has a new source of plentiful cash, with which it will renew its attempts to interest both consumers and businesses.
However, this merge might not be quite yet a strong competition for Apple or Google. Windows Phone still lacks a number of security elements required by businesses -- but Apple has it. Apple has a lead, and although Microsoft will aim to catch up, by the time they do it, the Cupertino company is already moving on to the next thing. It's happened in phones, and then in tablets.
Microsoft plus Nokia is no more dangerous to Google than they were apart. With Android, Google created a product that ensured Microsoft could never displace it from mobile search, and now Google is focusing on gathering ever more data from all of us, through our phones to learn and predict what we will do next -- so that it can offer it.
As for the other mobile devices makers, it's somewhat still unclear what will happen to them. There was an initial rumor that Microsoft was interested in acquiring BlackBerry, but with that clearly not happening, the clock is ticking for them. "It might not be a slow death," one analyst told The Guardian's Charles Arthur. "Perhaps it'll just be a single shot to the head."
HTC is also struggling. The Taiwanese company is expected to announce its first-ever quarterly loss this week as its revenues plummet in the face of increasing competition from South Korean rival Samsung, which has taken over as the world's biggest mobile phone and smartphone maker. Because it makes everything from the chips to the screens to the physical handsets, it can drive huge economies of scale and production. However, whether it will still be keen to compete against a company with a home advantage is unclear.
Meanwhile, the deal between Microsoft and Nokia is expected to close in the first quarter of 2014 subject to shareholder and regulatory approval.
© 2023 Latin Times. All rights reserved. Do not reproduce without permission.