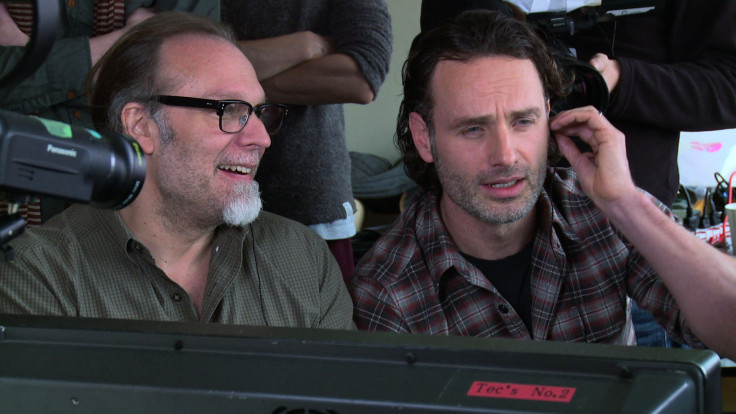 Even Daryl Dixon gets scared of zombies! Norman Reedus of "The Walking Dead" learned the hard way that he should never let his zombie guard down, even when off set. Reedus was the victim of a perfectly crafted zombie prank with the help of Andrew Lincoln, who plays Rick Grimes on AMC's hit series and Greg Nicotero, SFX and zombie makeup guru. The zombie starring in the prank was played by Nick Santonastasso, a New Jersey teen who was born with one arm and no legs, but a great sense of humor. Santonastasso, who has gained Internet fame by entertaining his 534,000 followers with hilarious Vine zombie pranks, was flown to Tokyo, Japan for the ultimate zombie prank.
Santonastasso, was born with a rare syndrome called Hanhart and has only one arm and no legs. However, his determination and outspoken love of "The Walking Dead" have connected him and Reedus in the past. Reedus, who maintains an active Twitter page, has previously tweeted out multiple videos of Santonastasso and his hilarious hijinks. Little did he know, that he would be soon meeting the 17-year-old in the flesh, well sort of, more like rotting flesh? Upon arrival, Nicotero got to work for the full zombie transformation, giving the teen a grizzled appearance, complete with a rotting set of teeth and decomposing lips. The teen then hid under a tablecloth within a room service cart, in the control room where Andrew Lincoln had full visuals of the hotel room, they waited for the opportune moment. Once Reedus was alone, Santonastasso bounded from under the sheet, to give Reedus a serious shock!
Check out the video below and also be sure to check out Nick Santonastasso's personal Twitter profile for more up to date news on the ultimate fan of "The Walking Dead!"
© 2023 Latin Times. All rights reserved. Do not reproduce without permission.