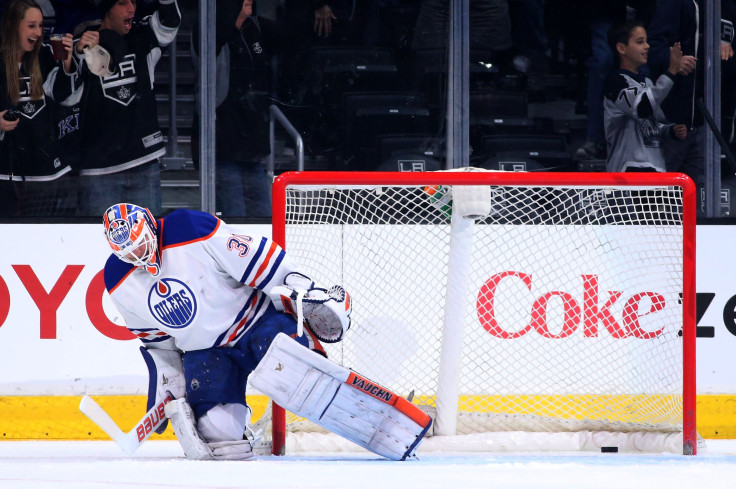 LOS ANGELES – Needing a win to keep their playoff hopes alive, the defending Stanley Cup Champion Los Angeles Kings welcomed one of their favorite opponents to town.
Marian Gaborik and Jeff Carter each had two goals as the Kings moved into a tie for 8th place in the Western Conference with an 8-2 victory over the Edmonton Oilers.
"It's nice to get on the board and score quite a few goals," said Gaborik of the rout. "There's always confidence in this room, but when you score this many goals hopefully it can carry over. We need to have a good first period in the next game."
With the win, the Kings are a franchise-best 11-0-3 against the Oilers in their last 14 games and have not lost to Edmonton since November 3rd, 2011.
"They came at us really hard at the start, and they didn't let up until late in the third," said Oilers head coach Todd Nelson. "They're a desperate hockey team. They're a good hockey team. They're the Stanley Cup Champions, so they're trying to put themselves in a position to go after it again."
Dustin Brown, Drew Doughty, Jordan Nolan, and Robyn Regehr also scored for the Kings who scored a season high eight goals in the lopsided victory.
"I think we did a better job at capitalizing on our chances," said Doughty. "We played a decent game. We kind of slipped into their game a little bit in the third period, but that happens when the score separates like that. It was a good game, a big win and we need to win the next one."
Anze Kopitar and Justin Williams had two assists for LA who snapped their two-game losing streak with some much needed home cooking. The Kings had played their previous five games on the road, winning the first three before losing back-to-back games against west foes Minnesota and Chicago.
Teddy Purcell and Jordan Eberle scored for the Oilers who are now 0-9-1 in their last 10 games against the Kings.
"They treated us like a junior hockey team," said Eberle of the game. "But because you're a professional hockey player you have to be able to play through whatever it is or else there will be guys who will take your spot."
Brown ended a 19-game scoring drought when he got LA on the board in the opening minutes when he took a pass from Trevor Lewis and beat former Kings goalie, Ben Scrivens stick side for his 11th goal of the season.
Gaborik lit the lamp minutes later when he shot the puck over Scrivens right shoulder and into the top left corner of the net. Doughty made it 3-0 Kings when his slap shot from just in front of the blue line found the back of the twine.
LA piled on with two more goals in the second period. Nolan scored he first goal in 20 games when he skated to the near post and slipped a shot through Scrivens five-hole and Carter scored on a power play from just in front of the net.
Scrivens made five saves, surrendering five goals before he got the hook in the third period to make way for backup goalie Tyler Bunz. The 23-year-old was making his NHL debut after being called up from the ECHL earlier in the week. Bunz didn't fair much better as he gave up three goals in the third period, including one that he tried to catch with his glove but instead found the back of the net.
"It was my first taste of it," said Bunz of his NHL debut. "The first couple minutes I didn't get many shots, but then they came in waves. My legs felt like jell-o, but after that second goal, I calmed down and made sure I made that next save."
Jonathan Quick made 28 saves for his 34th win of the season.
The Kings offensive onslaught continued as they added three more in the third period. Carter scored his second goal of the night on a breakaway midway through the final period. Carter's shot went off of Bunz body where Carter hit it again out of midair and into the net.
LA Kings head coach Darryl Sutter is undefeated against Edmonton, with a career record of 10-0-3 as member of the Kings.
"It's nice to get this win. It's not very often you get more than three [goals] in this league, but hopefully we saved one or two for Colorado," joked Sutter. "It's probably good for some guys' confidence for them to get on the board."
Game Notes:
Stoll returned to the lineup after suffering a head injury against Vancouver on March 12th. Veteran Mike Richards was a healthy scratch for the first time in his illustrious career. Kings forward Tanner Pearson who has been out with a broken leg since January was signed to a two-year contract extension on Thursday. Gaborik's second goal was his 25th of the season, the eighth time he has scored that many in a single season in his NHL career.
© 2023 Latin Times. All rights reserved. Do not reproduce without permission.