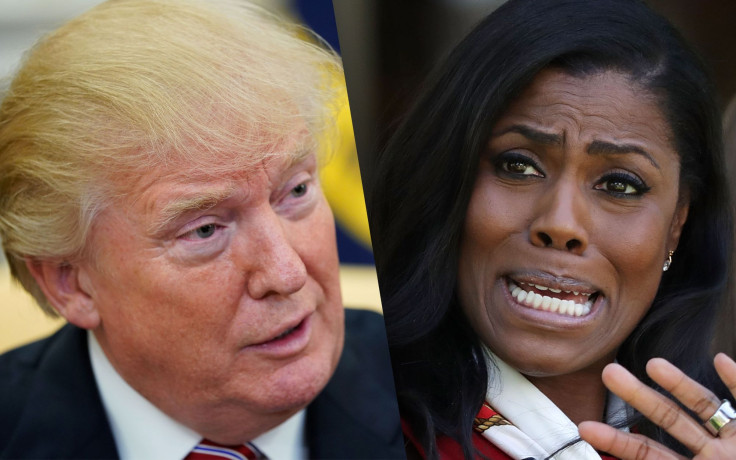 Omarosa is making headlines again thanks to what she says inside the "Celebrity Big Brother" house about her days working with Donald Trump. In a recent episode, fellow housemate Brandi Glanville of "The Real Housewives of Beverly Hills" fame asked "The Apprentice" villain if she had slept with the White House resident to which she replied: "Hell no! Of course not. Brandi, that's horrible."
Glanville explained why she made the shocking question saying, ""He seemed to like you so much, I was just wondering," but Omarosa said that Trump liked her because she was "ratings gold." The former White House advisor did reveal though that there is someone "sleeping around with everybody" which only raises questions as to who it might be.
In one of the first episodes of the CBS reality show Omarosa made some chilling claims about the future of America. Talking with Ross Matthews she revealed that the U.S. is not ok with Donald Trump as its leader. "I was haunted by tweets every single day," Manigault Newman said in a teaser of the show. "Like what is he going to tweet next?" Ross asked about the future and she replied with: "I'd like to say it's not my problem, but I can't say that because it's bad." Then asked if everything would be fine she nodded and said: "No, it's going to not be OK."
White House principal deputy press secretary Raj Shah had a reaction to comments made by the reality show star and said: "Omarosa was fired three times on 'The Apprentice,' and this was the fourth time we let her go," he said. "She had limited contact with the President while here. She has no contact now."
Ariadna Gutierrez is one of Omarosa's housemates as well. As you may remember, the Miss Colombia beauty queen was wrongly crowned as Miss Universe 2015 by Steve Harvey in a moment that now has a place in history. The contestants of the CBS reality show were sequestered just before the confirmation of the housemates was made. None of the famous personalities know about each other and will not meet until they enter the house they will live in.
In a short clip shared by the official Big Brother Twitter account Gutierrez said that her life prepared her for a situation like this. "I think my life has prepared me to be at the Big Brother house because I've been through a lot in my life, through a lot of pressure and I think being in a competition with 80 girls… that's a lot of pressure," she said. "I think I am going to be able at the house with more people."
Other houseguests include: Mark McGrath, Shannon Elizabeth, Metta World Peace, Brandi Glanville, James Maslow, Keshia Knight Pulliam, Marissa Janet Winokur, Chuck Liddell and Ross Matthews. "Celebrity Big Brother" will be hosted by veteran host Julie Chen and air multiple times per week.
© 2023 Latin Times. All rights reserved. Do not reproduce without permission.