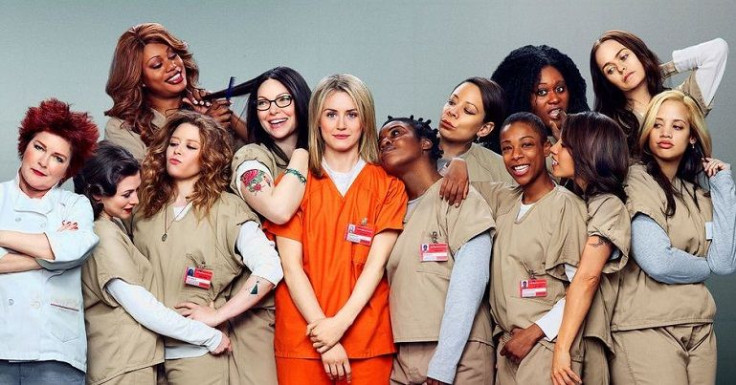 A new inmate has been revealed at Litchfield prison on "Orange is the New Black." Shannon Esper has booked herself a recurring role on the upcoming fourth season of the Netflix original series reports Deadline.
The actress will play Alana Dwight, a new inmate whose meek ways make her impossible to hate. In addition to acting Esper is the lead singer of ithe indie pop band The Echo Friendly, whose debut single "Same Mistakes" was featured on an episode of the HBO hit-series "Girls." Her other credits include "Law & Order: Criminal Intent" and "Not Fade Away."
From the character description it sounds like we could be dealing with another Brook Soso (Kimiko Glenn), but we won't know for sure until "OITNB" season four returns to the streaming service next year.
1. Will Bennett return? - Fans have been speculating John Bennet (Matt McGorry) will not return in season four of "OITNB." The prison guard was noticably absent in the last season of the Netflix series and spoke with Vulture about the role of Bennet:
"The flashback is analogous to what ends up actually happening with Bennett and Daya," said McGorry. "Here he is, he's in battle, he's talking a big game, but when it comes down to it, the other lower-ranked guy jumps on the grenade as Bennett goes and runs. I think it's sort of who Bennett is: He wants to be the hero so bad, and he tries but falls short. It's pretty tragic, but there is some part of me that thinks Bennett believes he was doing the better thing by leaving. It allows Pornstache's mother to step in, it allows other things to shift. I mean, if you think of it, that relationship has been a ticking time bomb since the beginning."
Furthermore, the actor remained vague about his characters future in an interview with Yahoo. He said ultimately Bennett's return is up to the writers of the show.
"The thing that I can say about Season 4 is that it's the writers' decision about whether or not Bennett is back… I have my fingers crossed that he comes through and is the man that we all hoped he was," said McGorry. "But I wouldn't be surprised to find out that wasn't the case. Like me, I guess you'll just have to wait and see."
2. New cast - Recently, the studio has announced that they're in the process of casting for new inmates in New York City, and they're particularly looking for Dominican type females to join the show's cast. This more than likely has to do with the ending of the third season which showed more prisoners will be coming to Litchfield.
3. More casting details - The casting call included a requirement that candidates must not have worked on the show previously, and should be comfortable with having "natural hair only, no wigs, waves, extensions, dreads, twists and no unnatural colors". This makes it pretty clear that they're looking for a typical inmate role, but the casting call doesn't specify how many positions they are looking to fill.
The only small hint we got from that was the fact that all those characters will be completely new to the show and we won't have seen them before, so the producers are definitely looking to spice things up a little bit.
4. Character promotions - Lea DeLaria has recently been made a regular cast member for the new season. She plays the role of Carrie "Big Boo" Black, and was recently just a recurring member, but it looks like fans are going to see her more regularly on the screen. Along with her, Jackie Cruz has been given a similar promotion, so her character Marisol "Flaca" Gonzales is also going to get more prominent exposure in the future episodes.
5. Alex is alive! Maybe? - Christian Today notes that Alex (Laura Prepon) might still be alive even if season three made it look like she was already dead.
Furthermore, Prepon shared a photo on her Instagram where she held up an identification card for a correctional wherein she is seen wearing an orange jumpsuit. She captioned the image, "excited to get out there and make an awesome season."
6. Red & Healy - Kate Mulgrew gave some insight on the relationship between her character and Healy's (Michael Harney) in her celebrity blog for Entertainment Weekly stating that what started as manipulation quickly turned into something real.
"We feel that she and Healy have an "understanding,"" wrote Mulgrew. "They are far from enemies but neither are they bosom buddies, although she has animatedly and openly defended his virtues, to the chagrin of his petulant and self-consumed "mail order bride." Red has established her willingness to fight for what is decent and, in her mind, unimpeachable. But then our throats tighten as we watch her snuggling up to Healy over a tea tray and we blink in a kind-of disbelief as we begin to form the (by now) uncomfortably clear impression that she is flirting with Healy, and that she is using all of her albeit rusty wiles to seduce him."
7. Michael Harney talks Healy - In a interview with IBTimes Michael Harney who plays Sam Healy in Netflix's original series "Orange is the New Black" gave us some insight into what we might see when the show returns for it's fourth season.
When asked what scenes he would like to have in the fourth season, Harney said that he wants to have more onscreen moments with Kate Mulgrew who plays the prison chef Red. "I really enjoy the scenes I had with Red in Season 3. So I'm hoping we have a chance to work together again. Artistically, that's very fulfilling for both of us, I believe, so there's that. But I approach it like it's a blank canvass," Harney said.
The actor also said that he is extremely pleased with his characters developing relationship with Red in season three.
"The thing that turns me on most about the show is the fact that I get to - what you said at the very beginning of our talk today - there's so many layers that I get to the opportunity to explore and they're really endless."
8. Uzo Aduba talks Crazy Eyes - During the Netflix portion of the TCA Summer Press Tour, actress Uzo Aduba spoke at a roundtable interview about her characters development in season three of "Orange is the New Black." The actress spoke on how fun it was to explore the fan fiction side of things, Suzanne "Crazy Eyes" relationships, sexuality and much more.
As far as the fan fiction aspect is concerned Aduba said, "In the past, we've Suzanne fancy herself a bit of a linguist and wordsmith. It's interesting to see her in season 1, and see what she does with someone else's words and how she uses that to craft her artistic nature. And then, in this season, she's free to create her own word choices and this is what she decides to come up with. She wants to write adult erotica, set in outer space, just to change it up."
The actress also talked about how her characters back story making much more sense in terms of her relationships and her longing for love. "For Suzanne, she has always bowed at the church of love and has been this idol worshipper in seasons past," Aduba said. "We got to watch her put Piper on a on a pedestal as an idol. And with Vee, it was the same."
9. Release Date - April 15, 2015, Netflix announced early renewal of Orange is the New Black for a fourth season. Season 4 of "OITNB" is slated to be released sometime in 2016. Netflix is yet to schedule the exact release date but based on previous seasons the fourth season should arrive June 2016.
© 2023 Latin Times. All rights reserved. Do not reproduce without permission.