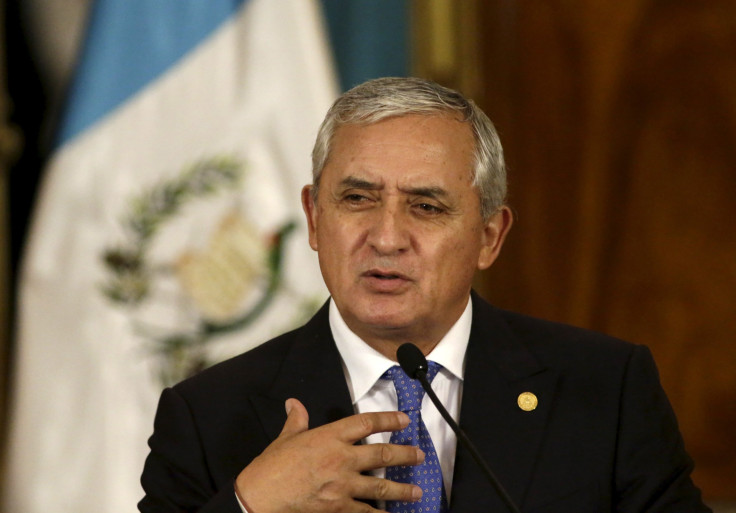 Guatemalan President Otto Pérez Molina issued his late Wednesday night following a warrant for his arrest, CNN confirmed. The move will become official once congress approves it. The decision followed weeks of protests. Congress stripped Pérez of immunity on Tuesday. Pérez is charged with fraud, bribery, and illicit association. Needless to say, the corruption scandal is rocking Guatemala, perhaps the greatests political shakeup since the 1996 Peace Accords that ended the country's decades-long civil war.
The depth of the alleged corruption is shocking. The Vice-President is currently on trial for alleged involvement in the criminal network that perpetrated the racket, known as "La Linea." Her trial started on last week. Evidence gathered by a U.N.-backed investigation team points to a wide criminal network inside the government that poached millions of dollars in bribes in exchange for helping companies dodge state import taxes.
Otto Pérez Molina is a former military general: Pérez represented the right-wing factions of the civil war during the 1996 peace accords and helped negotiate the final truce, which included an amnesty provision for military personnel who might be tried for war crimes. Left-wing sympathizers say that he may have overseen genocide of Ixil Mayan Guatemalans in the 1980s. He is not a popular figure among the indigenous Guatemalans, some of whom have tried to put ex-military leaders on trial for human rights violations.
U.N.-backed anti-corruption probe: Known as CICIG, it's linked to the U.N. and hard to dismiss as a politically-driven hatchet job. Evidence presented by the team makes it pretty clear that someone is guilty of organizing the tariff bribery scandal. Wiretaps of conversations by suspected lackeys in the case include references to euphemistic names that could refer to Roxana Baldetti: "R" (her first initial) "Number Two" (number two; her position in the government) and "la señora" (the woman; the man being Otto Pérez Molina).
Vice-President Roxana Baldetti denies charges: Baldetti has stepped down from office over the accusations but maintains that she did nothing wrong. On Monday, her lawyer said that "the woman" referred to someone else. Baldetti has cooperated with authorities since the Spring, when she was ordered not to leave the country.
VPs secretary fled police: Suspicions peaked when Juan Carlos Monzon Rojas, Baldetti's secretary, fled police. He's currently on the run, and accused of leading the tariff bribery ring.
Elections are Sept. 6th 2015: Pérez is in a sort of lame-duck session anyway because he can't run for reelection this fall. Some protesters want him to step down now instead of serving out his term, which ends in 2016. Others want to postpone the September 6th elections entirely. Either way, Pérez's Patriot Party is finished.
Massive Protests: While pundits have cautioned against calling Guatemala's protests a "Central American Spring" (a play on both the Arab Spring and Guatemala's nickname, The Land of Eternal Spring), they are a significant silver lining. They are the biggest protests in 30 years. Neither including violence nor receiving it in reprisal, the movement might signal a healthy recovery of democracy.
© 2023 Latin Times. All rights reserved. Do not reproduce without permission.