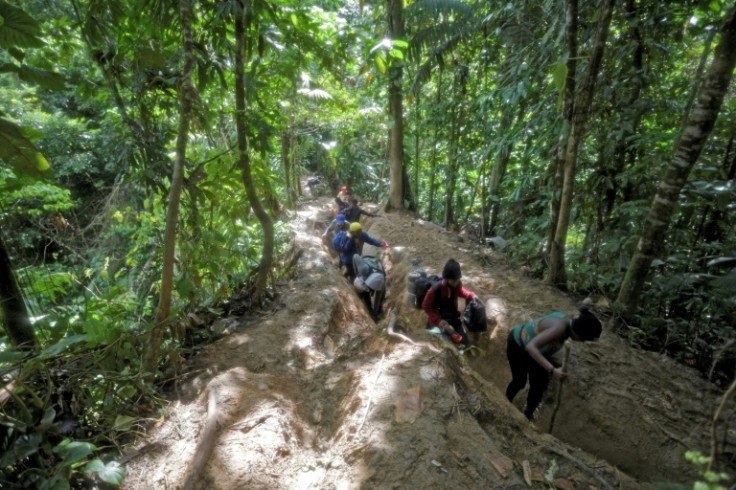 A top immigration official in Panama has slammed Colombia for not taking any action to reduce the number of migrants using the dangerous Darien Gap forest, in spite of an agreement between the countries and the U.S. to crack down on smuggling rings operating in the region.
Recently, about 2,600-2,800 migrants have been moving through the roadless area every day, Immigration Service Director Samira Gozaine said Sunday, as per the Associated Press. Last year, the daily average was reportedly 700 migrants.
Haitians and Venezuelans are the majority of the people using the gap, the Panama migration authority's deputy director Maria Isabel Saravia previously said. Colombians, Ecuadorians and migrants from outside the continent also use the route, reported CNN.
The 66-mile hike through the gap takes the migrants from Colombia to Panama, which is crucial for those wishing to reach the U.S. The journey is risky, as the people might fall victim to wild animals and rivers. Criminal gangs also make things worse as they rob migrants or demand money in exchange for guiding them through the forest.
According to the authorities, about 20% of the people taking the route comprise children and adolescents, CNN reported. UNICEF warned in March that in the first two months of 2023, there was a seven-fold rise in the number of children crossing the gap.
In April, Panama, Colombia and the U.S. had reached an agreement to deal with the smuggling rings that take migrants through the Darien Gap.
Gozaine said Bogota has not provided any information or taken action to handle the problem, adding the situation has gotten worse, "in spite of the negotiations with Colombia."
She noted there has been no formal agreement, information sharing or any effort that "might help Panama manage the unregulated flow, which has grown considerably in recent days."
Gozaine pointed out Colombia continued to "indiscriminately send us not only people from other countries, but Colombians as well."
A joint statement that was issued after the April agreement said Panama, Colombia and the U.S. would offer "new lawful and flexible pathways for tens of thousands of migrants and refugees as an alternative to irregular migration."
There were also investment plans to reduce poverty and provide job opportunities in Colombian and Panamanian border communities.
The Colombian government is yet to respond to the accusations.
In the first seven months of 2023, the number of migrants crossing the gap went up to almost 250,000. It surpassed the number that crossed in all of 2022.
Panama Public Security Minister Juan Manuel Pino previously said instead of coming down, the number of migrants passing through the gap could reach 400,000 by the end of 2023.
© 2023 Latin Times. All rights reserved. Do not reproduce without permission.