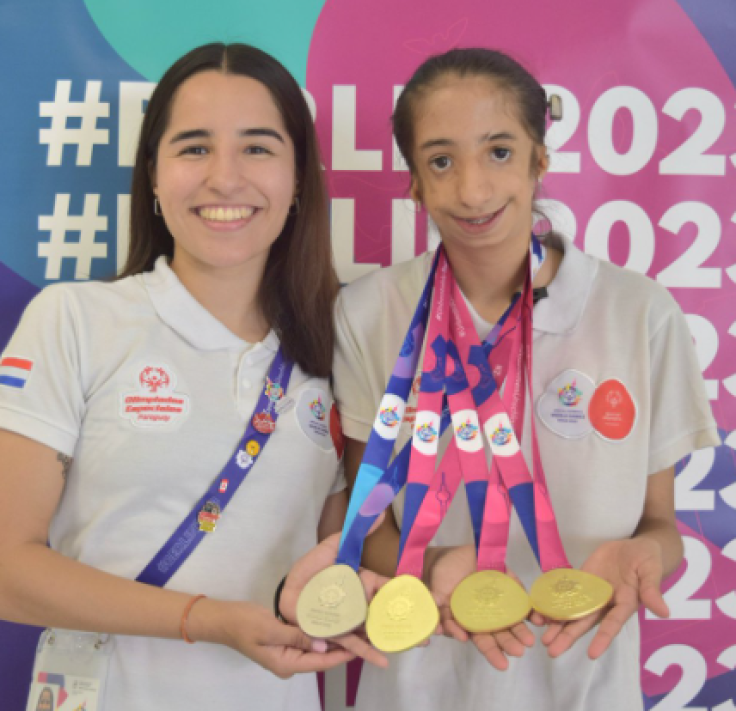 Twelve-year-old Paraguayan gymnast Valery Vera has conquered the rhythmic gymnastics competition at the Special Olympics in Berlin, Germany, earning 3 gold medals and 1 silver.
Valery excelled in the disciplines of ribbon, rope, and clubs, while she secured the silver medal in the hoop discipline.
The congratulatory messages from her country did not wait, as the President of the Republic of Paraguay, Mario Abdo Benítez, highlighted the athlete's participation on his Instagram, calling her a "national pride."
"We congratulate our talented gymnast Valery Vera, who, at only 12 years old, achieved 3 gold medals and 1 silver at the Special Olympics World Games #Berlin2023. National pride! 🇵🇾"
Valery, who was born with Treachery Collins syndrome, a condition that affects 1 in every 100,000 children, exhibits facial bone development issues. However, this has not diminished her immense talent, as she found her passion in gymnastics.
Furthermore, the official website of the "Special Olympics World Games Berlin 2023" highlighted her as the youngest athlete to participate in the games at just 12 years old. This contrasted with the oldest participant, an 81-year-old captain of the New Zealand bowling team, making the Olympic event truly remarkable.
The Games took place in Berlin, Germany, from June 17th to 25th, with the participation of 20 Latin American countries. Notable performances were achieved by Costa Rica, who secured 88 medals, Mexico with 33 medals, Ecuador and Guatemala with 24 medals each, while Chile concluded with 14 medals.
© 2023 Latin Times. All rights reserved. Do not reproduce without permission.