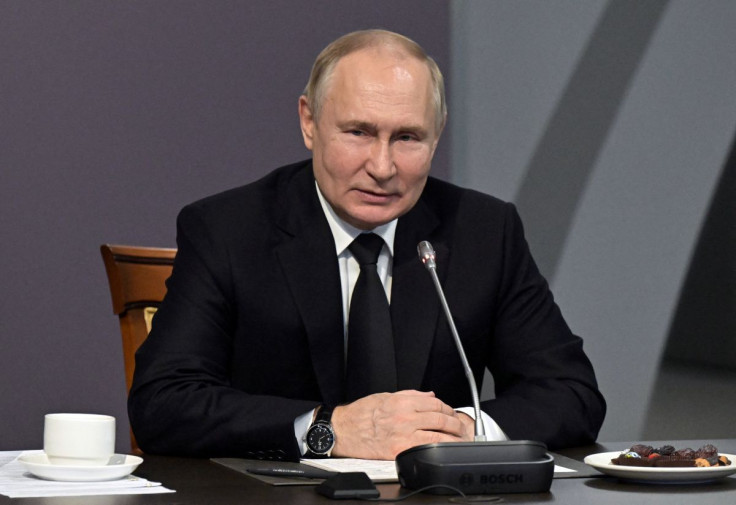 Russian President Vladimir Putin is so afraid of being killed that he has set up similar offices in each of his homes across the country to mislead his adversaries, according to a high-ranking Kremlin defector.
The 35-year-old Gleb Karakulov, a former officer in Putin's elite personal security service, escaped Russia via Turkey in October with his wife and daughter because he said he is morally opposed to the invasion of Ukraine and the ongoing conflict that has claimed thousands of lives on both sides.
Six months after his daring escape, Karakulov, a member of the covert Federal Protection Service who was in charge of the Russian leader's encrypted communications, is disclosing sensitive information about his former employer, whom he now openly refers to as a "war criminal."
In shocking interviews with the Associated Press and the anti-Kremlin investigative group the Dossier Center, Karakulov revealed Putin's complex safety measures, including erecting exact duplicates of his Kremlin office in various sites across Russia, complete with matching desk and wall hangings, New York Post reported.
The Dossier Center was informed by Karakulov that Putin's offices at his residence in St. Petersburg, in Sochi on the Black Sea, and in Novo-Ogaryovo on the outskirts of Moscow are all exact replicas of one another.
Official reports would occasionally indicate the president was at one location while he was actually in another in an effort to support the ruse.
When Putin was in Sochi, security personnel would purposefully send off a convoy and bring in a jet to make it look like he was departing, but he was actually staying, according to Karakulov.
"There were times when I knew he was in Sochi," Karakulov recalled. "The TV is on in the background; the news is on, and they show him conducting a meeting in Novo-Ogaryovo. So, I ask a colleague in Sochi, 'Has he left already?' 'No,' he says, 'he's still here.'"
Karakulov said his colleagues would laugh among themselves about their fretful boss's office replicas.
"I think that this is an attempt to confuse, first, [foreign] intelligence and second so that there are no assassination attempts," the defector said.
According to the Russian whistleblower, Putin, who portrays himself in public as a larger-than-life, macho leader in the mold of Peter the Great, is privately afraid of many things — feelings surely heightened now that his country is engaged in a full-scale war.
According to Karakulov, Putin has never used a cellphone or the internet, so he must rely on his confidantes for information.
He doesn't fly and prefers to take an armored train because he fears a missile could bring his plane down. Putin is also said to be terrified of catching COVID.
"We still have a self-isolating president," Karakulov said. "We have to observe a strict quarantine for two weeks before any event, even those lasting 15 to 20 minutes."
Given that all of Putin's staff members have received vaccinations and are required to take PCR tests many times each day, everyone in Putin's circle is "a little perplexed" by his concern with COVID safety standards, Karakulov stated.
Karakulov, who worked for Putin for 13 years and has taken more than 180 trips with him, said the leader he first met in 2009 is not the same man who invaded Ukraine last year.
© 2023 Latin Times. All rights reserved. Do not reproduce without permission.