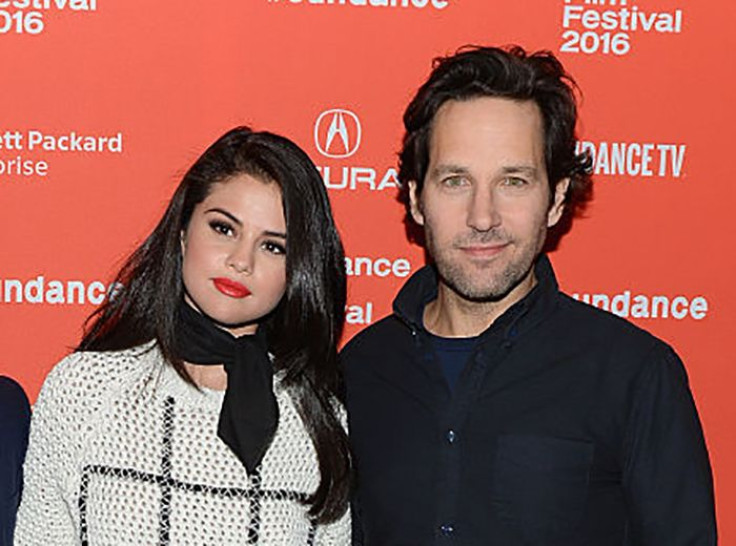 Paul Rudd, who stars in the movie "The Fundamentals of Caring" alongside Selena Gomez, said he was shocked to find out just how famous the songstress is. Rudd said he knew she was famous, but it was not until they were filming the movie that thousands of people showed up just to get a glimpse of Gomez that he truly realized her level of fame.
"I'm so out of touch," Rudd told Variety. "It wasn't until we were filming and I saw thousands of people turning out to try and see her that I realized what a phenomenon she is. To see her deal with that kind of fame, I came away even more impressed with her. She's extraordinary."
In the film, acquired by Netflix at the Sundance Film Festival, Gomez stars opposite Rudd and Craig Roberts.
Based on the novel by Jonathan Evison, the story follows a writer (Rudd) who retires after a personal tragedy and becomes the caregiver of an 18-year-old boy who has muscular dystrophy named Trevor (Roberts). When the two embark on an impromptu road trip, their ability to cope is tested but they meet Gomez's character, a teen who ran away from home and teaches them an important lesson about the importance of friendship.
Last year, Gomez was honored as the "Chart Topper" artist at the Women in Music ceremony, held in conjunction with the publication of Billboard's Women in Music list, which selects the year's 50 most powerful female executives in the industry.
The award recognizes an artist with major career milestones on Billboard's music charts and it was Gomez's friend, Rudd, who introduced her to the award on Dec. 18, 2015.
© 2023 Latin Times. All rights reserved. Do not reproduce without permission.