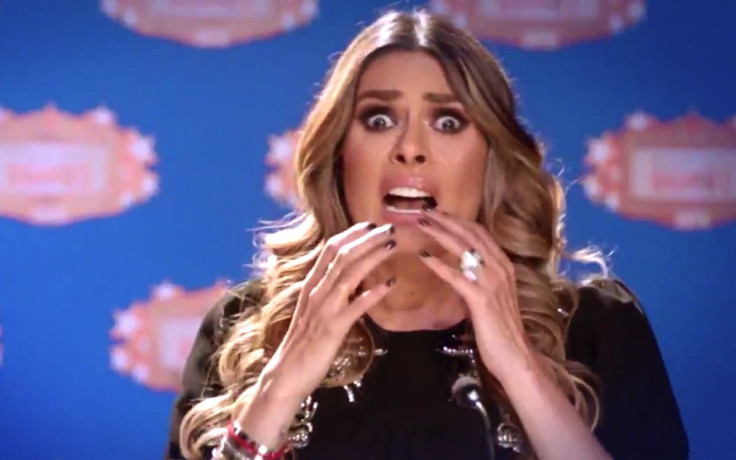 A new season of "Pequeños Gigantes" return to Univision this year with Galilea Montijo back as host. The kids talent competition will feature a new cast of multitalented youngsters from throughout the U.S., Puerto Rico and Mexico competing and an all new judging panel. "Pequeños Gigantes" premieres on Sunday, February 25 at 8pm ET/PT on the Spanish-language network.
The 2018 edition of the beloved children's talent reality show will feature six judges who represent a broad spectrum of the Latino entertainment industry: Broadway star and returning judge Bianca Marroquin; veteran TV and film actor Manuel "El Flaco" Ibáñez; singer with the regional Mexican group Bronco José Guadalupe Esparza; actor and creator of the comedic character "Albertano Santacruz" Ariel Miramontes; actor/singer and winner of "Bailando por un sueño 2017" Adrian Di Monte; and urban/tropical artist Nacho.
Hosted by actress, comedian and TV presenter Galilea Montijo, "Pequeños Gigantes" features children ages 4 through 13 showcasing their amazing dancing, singing and acting talents and competing for first place in a series of elimination rounds. Winners will be determined by the viewing public who will vote through the Univision Conecta app.
Commenting on the selection of judges, Lourdes Díaz, president of Entertainment, Univision Communications Inc. said: "With such a wide range talents on display by these young performers, we wanted to expand our panel of judges to include giants from every entertainment genre. This truly extraordinary collection of judges means our own 'Little Giants' will have the benefit of their incredible expertise, and our viewers will be guaranteed an exciting and entertaining competition every Sunday."
¡No los hacemos esperar más! Es momento de conocer a los jueces de #PequeñosGigantes. ¡No lo olviden! Gran estreno este 25 de febrero a las 9 pm por #LasEstrellas https://t.co/e3YwIteIAU@GalileaMontijo @AlbertanoNSM @biancamarroquin @AdrianDiMonte @flacoibanez @broncolupe pic.twitter.com/IV8GvgO4cY

— Pequeños Gigantes Oficial (@PequenosOf) February 12, 2018
Back in December 2017 the auditions to find the new crop of kids started. At the same time, Montijo was announced to return to her hosting duties. "I am very excited of returning to a new season of 'Pequeños Gigantes' as it's been a project that I've been on from the beginning," Montijo told us about returning to the show. "We can't wait to enjoy the talent that the kids will give us and hope that family's at home enjoy it."
"Pequeños Gigantes" will test the kids' artistic aptitude and ability to work together, assuming responsibilities beyond their years. Exceptional dancers, singers, musicians and entertainers across other disciplines will battle it out to become the next "Little Giants."
Show producers are looking for children between the ages of 4 and 13 with exceptional talent in singing, dancing, acting, modeling, hosting, or any other special talent among the entertainment fields. To audition, participants had to be citizens or legal residents of the United States and speak fluent Spanish, among other requirements.
"Pequeños Gigantes" is set to be produced in México at the Televisa studios and air simultaneously in México and the United States.
© 2023 Latin Times. All rights reserved. Do not reproduce without permission.