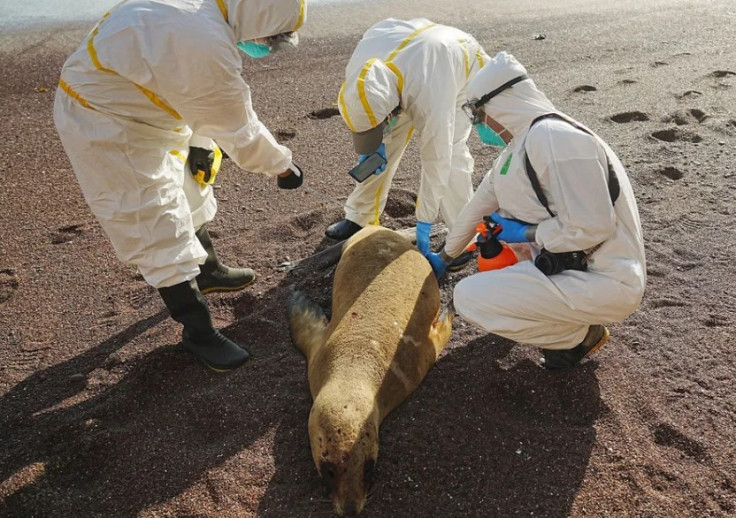 The National Service of Natural Areas Protected by the State (Sernanp), a department within the Ministry of the Environment, strengthens the implementation of its biological monitoring, surveillance, and control protocol in the region of protected natural areas, mostly along the coast of Peru.
As the H5N1 avian influenza virus continues to spread throughout Central and South America, veterinary officials in Peru yesterday identified influenza in sea lions and a dolphin. This is the latest confirmation of mammal detections.
As part of its reaction to outbreaks in poultry, Peru's National Agrarian Health Service (SENASA) stated that surveillance for marine species on the nation's beaches is a priority. In a statement translated and released by the infectious disease news blog Avian Flu Diary, SENASA reported tests on three sea lions found dead in Nov. and one dolphin were positive for H5N1.
In a follow-up statement, SENASA stated that at least 585 sea lions and 55,000 wild birds had been discovered dead in seven national coastal nature preserves, most likely from avian flu.
The results obtained were positive for Avian Influenza H5N1 for the species of sea lions, Humboldt penguins, booby and oystercatcher. Furthermore, information has been shared between Minsa, Senasa, Serfor and Sernanp to unify a nationwide database for prevention purposes and the adoption of measures for the protection of health against avian influenza, reports Outbreak News Today.
The reports come in addition to previous reports from the United Kingdom and H5N1 in farmed minks in Spain, as well as an increasing number of animal detections. 110 mammal species have so far been detected in the United States. A mutation in the H5N1 clade, which is spreading in birds, poultry, and an increasing number of humans, makes the virus easier for mammalian airway cells to identify.
Seven H5N1 infections in humans have been reported, all of which had intimate contact with poultry. While some ailments were minor, others were serious or even fatal. There have been no reports of human-to-human transmission to date, reports CIDRAP.
The highly pathogenic avian flu has been spreading quickly over a 4-month period, with occasional spillovers to people and animals, according to the World Organization for Animal Health (WOAH), which expressed worries about this last week. The most recent human instance was an Ecuadorian 9-year-old girl.
Bolivia, Colombia, Costa Rica, Ecuador, Honduras, Panama, Peru, and Venezuela are among the most recent nations to be impacted. The first high-path outbreaks in Chile in 20 years were detected.
According to WOAH, there were 70 outbreaks of avian flu in poultry during the first three weeks of Jan. and 90 occurrences involving other species, mostly in Europe but also in the Americas and Asia, resulting in 3 million birds dying or being culled. Most of the activity involves the current H5N1 subtype.
WOAH also stresses the importance of reporting outbreaks of avian influenza in unusual hosts, as it has been noted that the virus has been increasingly detected in mammals in recent months, a situation that should be monitored. It urged countries to maintain surveillance and biosecurity measures and to report the detections in a timely manner in poultry and nonpoultry species.
A regular series of outbreaks in poultry persists in the United States. The Animal and Plant Health Inspection Service (APHIS) of the US Department of Agriculture (USDA) has reported further outbreaks in three states, including Wyoming, Maine, and California, in updates during the previous several days. The majority of new outbreaks in California affect backyard flocks, however, one of the three new cases was at a commercial duck breeding facility in Merced County that had 29,100 birds.
© 2023 Latin Times. All rights reserved. Do not reproduce without permission.