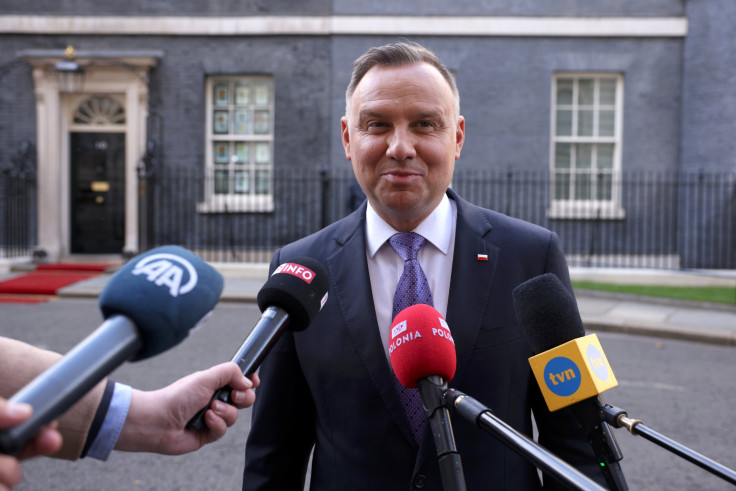 Poland will be the first NATO nation to send aircraft to Ukraine since Russia's invasion last year when it sends four Mig fighter jets from the Soviet period.
According to Polish President Andrzej Duda, they would be delivered in the coming days, with others handed over in the future. Although a welcome addition to Ukraine's air defense, the additional jets are not anticipated to be a game-changer in the conflict.
Olena Kondratyuk, the deputy speaker of the Ukrainian parliament, expressed her hope that more nations will follow.
Other Nato countries are considering sending Soviet-era planes, which Ukrainian pilots are trained to fly, BBC reported.
Ukraine has repeatedly requested advanced combat jets like the F-16 from Western nations.
Ukrainian pilots are being trained by the UK on NATO-standard aircraft. But because of the long training times, it has warned that supplying Western jets would only ever be a long-term option.
President Biden has previously ruled out sending jets from the U.S. to Ukraine.
Ukraine was thought to have 120 combat-capable aircraft at the beginning of Russia's full-scale invasion, mostly aging MiG-29s and Su-27s.
President Duda said Poland still had around a dozen Soviet-era Mig 29 aircraft in operation.
Ukrainian MP Kira Rudik told the BBC, "We need them to strengthen our air defense systems and to help our army in the spring counter-offensive.
"It's also a good sign to everybody that getting fighter jets to Ukraine is not something unspeakable or surreal - that this is something that can happen; that the only thing that is needed to make it happen is political will," Rudik added.
The Polish jets would be utilized "very efficiently by our air force," according to Yuriy Sak, an adviser to the Ukrainian defense minister.
He said that the current Ukrainian air force had launched 16 airstrikes against Russian personnel and equipment in the previous 24 hours. But he emphasized that Ukraine wanted "fourth generation" jets, such as F-16s.
"They are more universal platforms, they are more capable and of course, they will make Ukrainian air forces more efficient," he said.
Poland is a strong ally of Ukraine, one of the largest suppliers of military equipment. It is currently replacing its old Soviet-era planes with newer American and Korean models.
The early MiG aircraft were propeller-driven fighters produced in moderate numbers during World War II.
American single-engine multirole fighter aircraft, the General Dynamics F-16 Fighting Falcon was initially created by General Dynamics for the U.S. Air Force.
Designed as an air superiority day fighter, it evolved into a successful all-weather multirole aircraft.
© 2023 Latin Times. All rights reserved. Do not reproduce without permission.