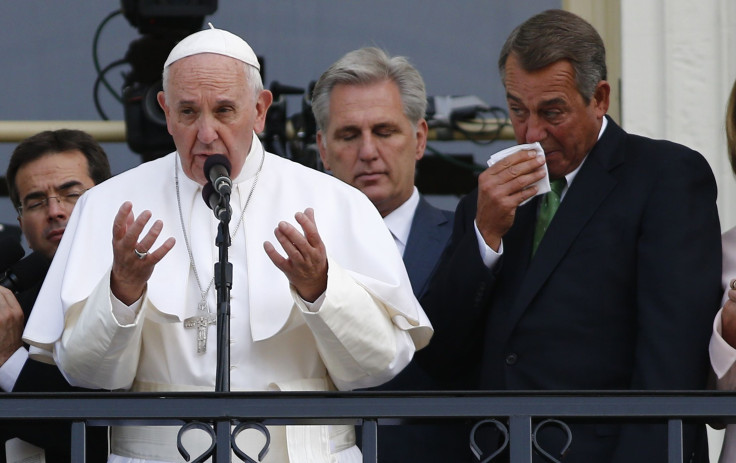 Pope Francis brought tears to the eyes of Republican Speaker of the House John Boehner (R-Ohio) in a meeting ahead of the Catholic Church leader's address to congress on Wednesday. Boehner, who is Catholic and a former altar boy, wiped his eyes again has he introduced during the Pontiff to applauding legislators. Senator Marco Rubio (R-Florida), who is running for president also reportedly wept as the pope personally identified with immigrants, according to the Washington Post. Rubio's parents immigrated from Cuba.
"We, the people of this continent, are not fearful of foreigners, because most of us were once foreigners," Pope Francis said. "I say this to you as the son of immigrants, knowing that so many of you are also descended from immigrants."
Pope Francis, born Jorge Mario Bergoglio, grew up in Argentina, the son of Italian immigrants. Francis preached a message of tolerance for refugees fleeing war-torn areas, and also economic migrants in search of a better life.
"On this continent, too, thousands of persons are led to travel north in search of a better life for themselves and for their loved ones, in search of greater opportunities. Is this not what we want for our own children?" Francis said.
On Thursday pro-immigration groups called for congress and the White House to adopt Francis' message. The Obama administration, too, has been criticized in recent months for allegedly inhumane treatment of immigrants who are in detention, including asylum seekers.
"We hope that Pope Francis' message of inclusion, respect for differences, and support of human dignity, all heavily applauded by Congress today, shakes our country and the GOP out of its current anti-immigrant and anti-latino fervor," said Arturo Carmona, Executive Director of Presente.org, in an email to the Latin Times.
"We stand with the Pope in the call for humanity and cooperation [...]. This includes an end to unjust deportations and detention and the recognition of our humanity by way of comprehensive immigration reform that provides a clear path to citizenship and family unity," said Fair Immigration Reform Movement spokesperson Kica Matos, also in an email.
Groups advocating for less immigration and tougher border enforcement traded in political spin for a virtual silence. The Heritage Foundation , Federation for American Immigration Reform and Center for Immigration Studies barely mentioned the Pope this week in press releases.
On Twitter, Republican presidential candidates focused on the family values and abortion-rights aspects of the Vatican's message, and were also silent on immigration.
Jeb Bush, who is also Catholic, tweeted a video on Wednesday that touted his Catholic faith as a leadership quality, but focused on "religious freedom," and "a culture of of life" without mentioning immigration or climate change, another issue raised by the Pope.
Conflicted Speaker
Congressman Boehner is in a tough position. As Speaker, he was directly responsible for defeating the 2013 comprehensive immigration reform bill that supporters say would have fixed many of the problems described by Pope Francis.
However, congressional inaction on immigration has more to do with the internal politics of the Republican wing than the personal wishes of Boehner, as The Atlantic's Russell Berman explains.
"He wants to make deals on issues like immigration and the deficit, but he's lacked either the political courage or the salesmanship to overcome conservative opposition in his party," Berman writes in a recent article about the Speaker.
Boehner Resigns Following Meeting With Pope; Reveals Priavate Moment
"To respond in a way which is always humane, just and fraternal. We need to avoid a common temptation nowadays: to discard whatever proves troublesome," Francis said in his address, according to Vox.
After Pope Francis' speech, Boehner was seen crying again outside as Francis waved to crowds outside in the open air of Washington, D.C. What moved the Speaker so profoundly, and what actions might Francis inspire? That answer rests between him and his god.
© 2023 Latin Times. All rights reserved. Do not reproduce without permission.