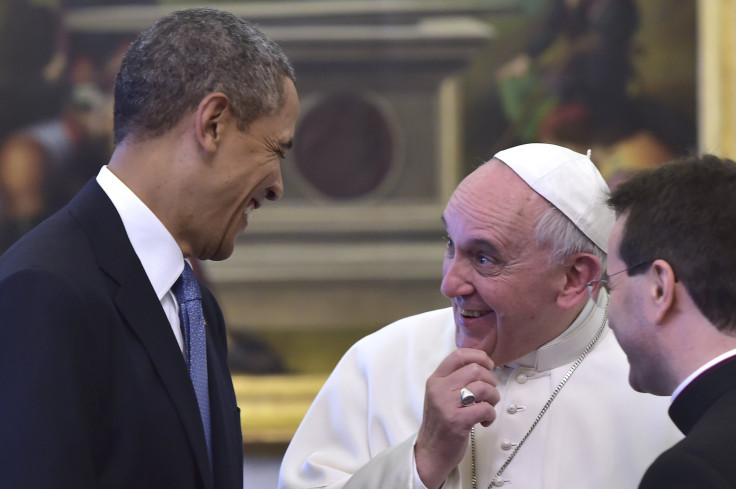 Pope Francis will visit the Obamas this fall, the White House announced today in a statement. Pope Francis first met with President Obama in March of last year when he visited the Vatican. The leader of the Free World and the leader of the Church will get together on Wednesday, September 23rd, according to the statement. They will discuss "shared commitments on a wide range of issues."
"Caring for the marginalized and the poor; advancing economic opportunity for all; serving as good stewards of the environment; protecting religious minorities and promoting religious freedom around the world; and welcoming and integrating immigrants and refugees into our communities," are on the agenda, according to the White House.
The announcement comes at a time when Obama is facing political opposition in most of those arenas. His signature healthcare legislation, the Affordable Care Act, is awaiting a potential death-knell from the Supreme Court. Obama's executive immigration actions are also being tested in the courts, after legislators tried to reverse them earlier this year.
Though Francis might not be able to help in the courts (most of those cases will occur in the next few months), he might be able to give some president some strength on the environment. Obama recently retreated from a fight on fracking, but is aiming for a far-reaching global climate deal at the U.N. in December. The deal, if reached, could cement the president's environmental legacy, which has been under fire from activists.
© 2023 Latin Times. All rights reserved. Do not reproduce without permission.