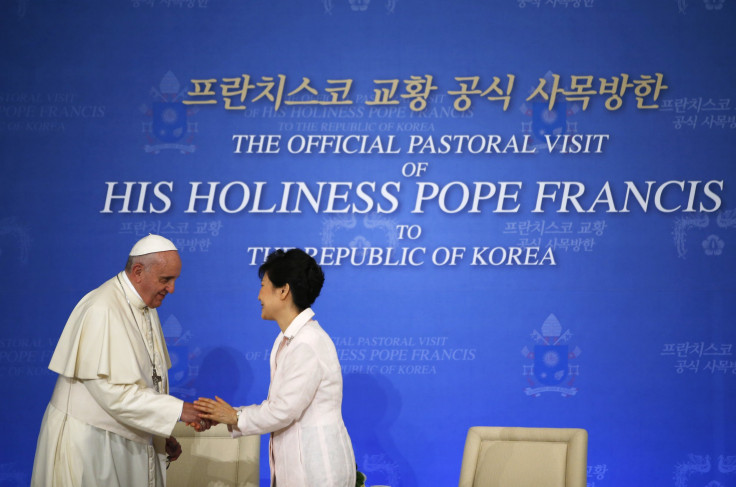 As Korea remains divided, Pope Francis pays a visit to "pray for the country and the reconciliation of peace," marking the first papal visit to Asia in 15 years, and the first one in Korea in 25 years. The South Korean Ministry of Deffense said North Korea fired around five missiles in to the east sea of the Korean peninsula approximately an hour before the Pope's arrival. Pope Francis made his first statement upon his arrival saying, "the reconciliation of peace in Korea is an issue that concerns us greatly, especially since it affects the stability of the region as well as our whole war-weary world."
It is only logical that after so many years, Pope Francis would have a very busy agenda for the five days he will remain there. The agenda includes beatifying 124 Korean saints, addressing Asian Catholic youth at the celebration of the 6th Asian Youth Day and holding a Holy Mass for Peace and Reconciliation, to pray for peace among South and North Korea. He is also meeting with President Park Guen-hye to hold a Mass in remembrance of the sunken Sewol ferry for members of their families.
The Pope's visit to Asia is also a strong indicator of how Catholicism is growing in this continent and Lionel Jensen, associate professor of East Asian Languages and Cultures at the University of Notre Dame, says the visit to Korea is, "part of a very intelligent opening to Asia." Pope Francis was greeted by President Park and then attended a welcoming ceremony at the Blue House where he met with other Southern Korean officials as the initial event of his visit.
© 2023 Latin Times. All rights reserved. Do not reproduce without permission.