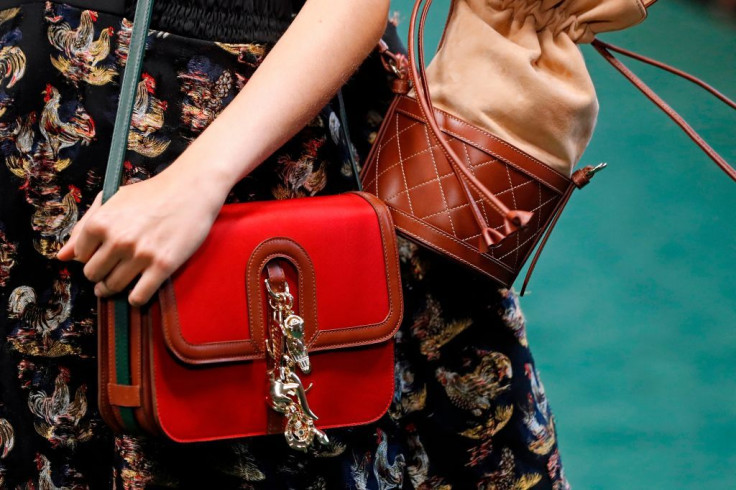 Chic, stylish, vegan friendly, practical, yes! We have it all in this list. The following brands have exactly what you need. Find your ideal bag and wow everyone with your unique taste!
You probably have so much makeup and beauty products that you are thinking on renting an apartment just for your cosmetics. Traveling or spending even one day away from home can be a difficult task when you have so much to pack. And although your beauty routine can be a bit extensive, you always make sure to take with you your precious products.
Finding the perfect makeup bag sounds easy, but we know it is not when you're worried that that expensive contour trio will become dust with the smallest blow. That's why the pouches below will not only protect your makeup and face creams; they also will make you look fab.
Crimes of Beauty: Are you have a feisty, unapologetic girl boss that eats glitter for breakfast? The Crimes of Beauty is what you might need! Funny, cutting and oh so cute, makeup bags that will be ideal for storing your beauty buys in one place.

Wander Wet Bags: Ditch the free gift bag you got with that perfume years ago and upgrade to a sophisticated bathroom essential that stashes your your essentials. Wander WetBags is the perfect accessory! Eco-friendly, reusablebags made with the style-conscious, jetsetter in mind, they aren't just water resistant – you can show off your vibrant personality with the beautiful, on-trend cotton prints created right under the SoCal sun.
It is almost certain that you are willing to sacrifice the amount of things you carry in your bag, and it doesn't affect how big or small the bag is if makes you shine wherever you go. You are the first to acquire the new style and your outfit head or toe looks like if are a fashion blogger.
The brand below offers the coolest sequin, glitter mini backpacks and fanny packs; the best part is that they won't break your bank account.
OMG! Accessories: With high-quality custom products, this new lifestyle brand had a massive success in over 100 national retailers such as Nordstrom, Macy's & Von Maur. OMG! take the time to truly understand the inspiration and motivation that drives style and trends in fashion forward individuals all around the world. Founder and CEO, Anne Harper, creates affordable concepts with innovative and fashion forward designs.

OMG! also offer Doggy Mini Backpack Poop Bag Holders —a must have product that is perfect for dog owners. Now both you and you dog can walk with style and convenience, making clean up easier and more fashionable than ever.
​You love animals, and maybe you're thinking about being a member of PETA. You don't use or consume any product from any animal and yet you always look for the way to look super chic for the work, when you go out with the girls or on a date with your special guy.
The following brand will give you the latest in style with smart functionality, and no animals are ever harmed in the making.
Pixie Mood: These PETA approved, vegan-friendly bags will have heads turning as you walk into work, dance the night away for a girls night or out on the town for date night! With Pixie Mood's trending styles, you can make a fashionable statement with a compassionate choice, while still looking fabulous with vibrant, vegan fashion!
With all the things you have to do when the kid go to school, knowing where to find stuff makes life a whole lot easier. You surely need in your life a practical, child safe, well-designed, earth friendly solution.
A washable, reusable, see-through mesh storage bag is the answer to your prayers!
ZizzyBee: Everything from school supplies and lunches to after school sports equipment can find a home in ZizzyBee's innovative, mesh storage bags. These see-through gems let you know exactly where everything is so you can get out the door on time and no one gets a tardy.
You travel aimlessly don't you? You are the rambler, hiker , migrant , globetrotter of the family. But like J.R.R. Tolkien said, "Not all those who wander are lost." And even though you view life in another way, you know that keeping your personal belongings safe gives you peace.
Maybe a book, your camera and other treasures mean a lot for you when exploring new territories . The following brand merges fashion and function , represents trust, and kindness and strives to live up to these values where they are.
Totto: The Colombian brand offers bags and accessories ideal for tweens through adults, each carefully crafted to comfortably and functionally tote all the necessities that make study, work, sports, and travel most efficient. Totto's commitment to new and innovative products has made the brand a pioneer in functional backpacks that merge design and technology. The travel line includes luggage, accessories, and backpacks that make traveling easy and safe. From semi-hardshell luggage with a 360° wheel system to various duffel bags, there's something for every traveler.
​
© 2023 Latin Times. All rights reserved. Do not reproduce without permission.