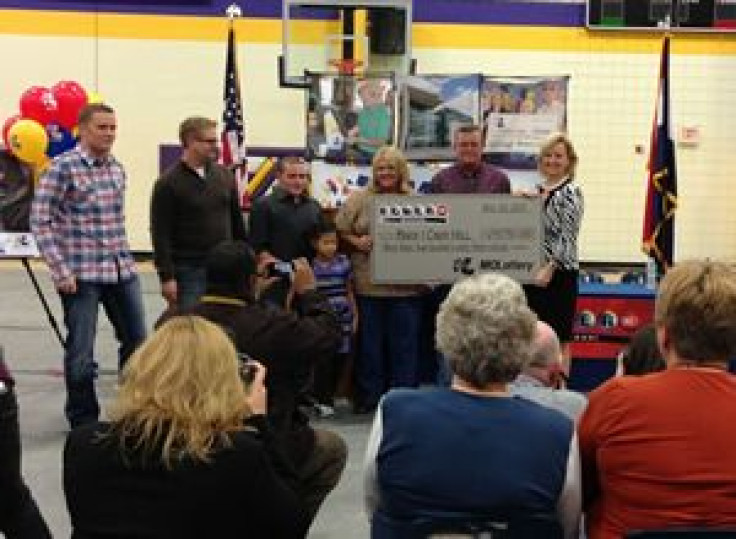 Wednesday's historical Powerball jackpot was won in Missouri and Arizona.
The winning numbers were: 5, 16, 22, 23, 29, and the Powerball was 6.
A Dearborn, MO couple, Cindy and Mark Hill, won half of the $587.5 million jackpot.
According to the Lottery, "Cindy bought the couple's winning combination, along with four others, the night of the drawing at Trex Mart, 17605 Highway Z in Dearborn. She let the computer quick pick the combinations on her ticket."
The couple is expected to get $192.5 million in cash.
"I think we're going to have a pretty good Christmas," Cindy Hill said.
"We're still stunned by what's happened. It's surreal. Every once in a while you look at each other and say, 'Did we really win that money?'" said the Dearborn, Missouri, resident.
Cindy was reportedly laid off in June and Mark works as a mechanic for Hillshire Brands.
Lottery officials have not yet confirmed the identity of the other Powerball winner in Arizona.
According to ABC News, "surveillance cameras at the Upper Marlboro gas station [in Arizona] captured the apparent winner walking into the store Thursday afternoon, digging into his chest pocket for his lottery tickets. After a few seconds of scanning the wad of tickets, the man began jumping up and down, pumping his arms."
Over 8.9 million people won something from the Powerball on Wednesday. Non-jackpot prizes won on Wednesday amounted to over $131.5 million.
According to the Missouri Lottery,the Hills are the 27th Powerball jackpot winners and the 352nd Missouri Lottery-made millionaires overall.
© 2023 Latin Times. All rights reserved. Do not reproduce without permission.