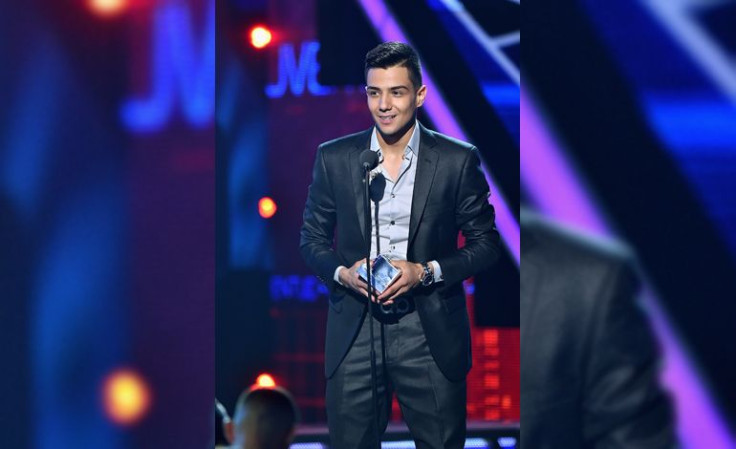 Premios Juventud once again proved to be THE party for the youth, showcasing new up-and-coming artists as well as more established ones, mixing them together in the biggest event for millenials. The best of the best of Latino pop culture gathered at the BankUnited Center in Miami, walking the red carpet first, and then taking part of the show, that was video game-themed this year. We got to see some fantastic performances by amazing artists such as Ricky Martin, Maite Perroni, J Balvin, Gloria Trevi, Chino y Nacho with Farruko, Nicky Jam, Alejandro Sanz, Yandel, Maluma, a touching tribute to Joan Sebastián performed by Calibre 50, Fifth Harmony, Anahí featuring Wisin, Chiquis Rivera, Pitbull, Luis Coronel, Gloria Trevi, El Dasa, Fonseca, Joey Montana and many more.
This year, 36 artists performed on stage as part of 25 musical numbers, making this the biggest Premios Juventud yet. Ninel Conde and William Levy also took the stage as hosts for another year in a row, but the real talk of the night, the reason why we were all glued to our TVs were the winners. Below, find the list of tonight's winners that were presented live during the award show!
MOVIES CATEGORIES:
¡Qué Actorazo! (Best Actor): William Levy
Actriz que se Roba la Pantalla (She Steals the Show): Jennifer López
Película Más Padre (Favorite Flick): "The Boy Next Door"
NOVELAS CATEGORIES:
Mi Protagonista Favorito (My Favorite Lead Actor): Jorge Salinas ("Mi Corazón Es Tuyo")
Mi Protagonista Favorita (My Favorite Lead Actress): Silvia Navarro ("Mi Corazón Es Tuyo")
Mejor Tema Novelero (Best Novela Theme Song): "Aunque Estés con Él" – Calibre 50
MUSIC CATEGORIES:
La Combinación Perfecta (The Perfect Combo): "Bailando" – Enrique Iglesias ft. Gente de Zona and Descemer Bueno
Lo Toco Todo (Just Play It All): "Quiero Ser Tu Dueño" – Luis Coronel
Voz del Momento (Red Hot Artist): Luis Coronel
La Más Pegajosa (Catchiest Tune): "Bailando" – Enrique Iglesias ft. Gente de Zona and Descemer Bueno
Mi Video Favorito (My Favorite Video): "Bailando" – Enrique Iglesias ft. Gente de Zona and Descemer Bueno
Mi Letra Favorita (My Favorite Lyrics): "Contigo" – Calibre 50
El Súper Tour (The Super Tour): "Sex and Love Tour" – Enrique Iglesias ft. Pitbull and J Balvin
Canción Corta-Venas (Heart-Wrenching Song): "Perdón" – Camila
Mi Ringtone (My Ringtone): "Bailando" – Enrique Iglesias ft. Gente de Zona and Descemer Bueno
Favorite Hit: "Shower" – Becky G
Favorite Hitmaker: Beyoncé
Revelación Juvenil (Best New Artist): Remmy Valenzuela
Mi Artista Pop/Rock (My Pop/Rock Artist): Enrique Iglesias
Mi Artista Regional Mexicano (My Regional Mexican Artist): Luis Coronel
Mi Artista Tropical (My Tropical Artist): Prince Royce
Mi Artista Urbano (My Urban Artist): Pitbull
POP CULTURE CATEGORIES:
Síganme los Buenos (Follow Me): Luis Coronel
Mi DJ Favorito (My Favorite DJ): El Bueno, La Mala y El Feo
IMAGE AND FASHION CATEGORY:
El de Mejor Estilo (That Man Has Style): Maluma
Quiero Vestir como Ella (I Wanna Dress like Her): Fifth Harmony
SPORTS CATEGORIES:
Deportista de Alto Voltaje (Most Electrifying Athlete): Javier "Chicharito" Hernández
La Nueva Promesa (Promising New Player): Jesús "El Tecatito" Corona
© 2023 Latin Times. All rights reserved. Do not reproduce without permission.