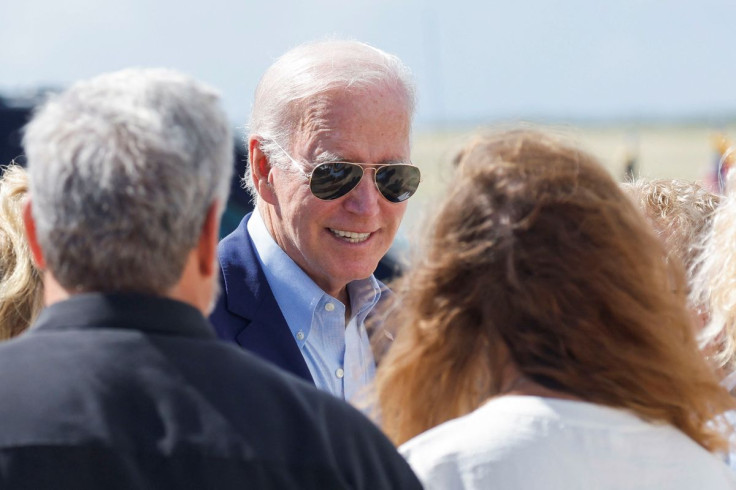 Prior to addressing the horrifying mass shooting that left six people dead at a Nashville elementary school hours earlier, President Biden on Monday, Mar. 27, joked that the only reason he attended a White House function was that he had heard there would be ice cream.
"My name is Joe Biden. I'm Dr. Jill Biden's husband," the 80-year-old president began his remarks at an East Room gathering of women-owned businesses.
"And I eat Jeni's ice cream — chocolate chip. I came down because I heard there was chocolate chip ice cream," he said.
"By the way, I have a whole refrigerator full upstairs," Biden added at his only scheduled public appearance of the day. "You think I'm kidding? I'm not."
The president then addressed the incident at the Covenant School, which resulted in the deaths of three students and three staff members, describing it as "sick" and "a family's worst nightmare," and he then demanded once more that Congress adopt a law banning assault weapons.
Surprisingly, Biden brought up ice cream once more and gave a shout-out to a representative from Jeni's, an Ohio-based business with locations across the nation, including one not far from the White House, New York Post reported.
"The businesses represented in this room stretch across industries, from restaurants to architectural firms to hardware stores, plus Jeni's Splendid Ice Cream. And by the way — by the way, it is splendid," Biden gushed.
"If I were allowed to take you upstairs, you got a whole freezer full of Jeni's chocolate chip ice cream," Biden went on — closing his eyes slightly as if to reminisce about taking a bite.
"You know it's pretty dull when you've been in public life as long as I have and you're known for two things: chocolate chip ice cream and Ray-Bans sunglasses, but what the hell," the president added.
In addition to the misplaced attempt at comedy, Biden's lengthy ice cream aside is probably going to be used as argumentative material by those who believe he is simply too old to be elected to a second term.
The reelection campaign for Biden, who is already the oldest U.S. president in history, is anticipated to get underway as early as next month.
If he serves a full second term in 2029, he would be 86 years old.
The White House came under fire last month from Rep. Ronny Jackson (R-Texas), who served as the presidential physician to former Presidents Donald Trump and Barack Obama, for failing to provide Biden's doctor to respond to press inquiries or reveal whether Biden had a cognitive exam as part of his annual physical.
"The physician to the president, Kevin O'Connor, owes it to the country to step up to the plate right now and stand up before the press and answer all the hard questions," Jackson said at the time.
Biden's mental capacity came under significant scrutiny when he asked "Where's Jackie?" and searched for the late Rep. Jackie Walorski (R-Ind.) in September, despite lamenting her passing in a vehicle accident in August and even calling her family to express his sympathies.
At least six times in the past, Biden has referred to his vice president, Kamala Harris, as the "president."
In February, Biden welcomed former President Bill Clinton back to "Congress" while speaking at the White House (Clinton never served in the House or Senate).
Biden claimed in December that his uncle Frank Biden had received the Purple Heart for his conduct during the Battle of the Bulge in World War Two, but there is no proof of this and several crucial factors render the claim historically implausible.
However, Biden's defenders note he has a decades-long history of gaffes and false personal anecdotes.
Biden dropped out of his first presidential campaign in 1987 after it was revealed that he plagiarized UK politician Neil Kinnock's speeches and embellished details about his academic record.
Former President Donald Trump, 76, is seeking a rematch with Biden and frequently portrays his successor as unfit for office.
During the 2020 election, Trump called Biden "Sleepy Joe," and more recently, he has attacked him for his public blunders, such as last week when he praised "China" when he meant to say Canada during a speech to the Canadian parliament in Ottawa.
© 2023 Latin Times. All rights reserved. Do not reproduce without permission.