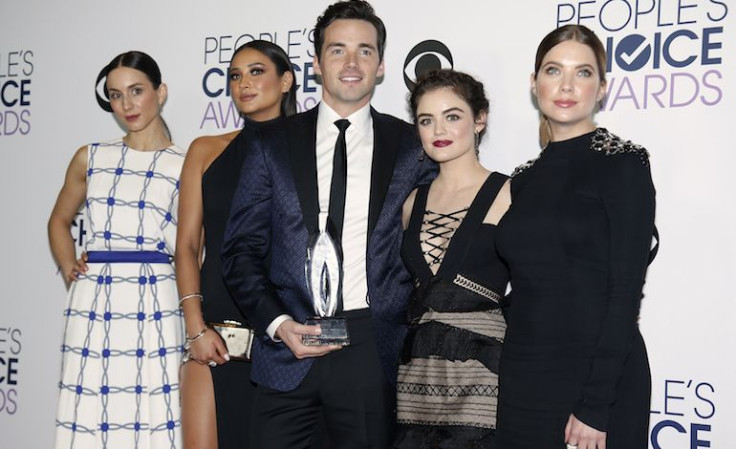 Tonight is an all-new episode of "Pretty Little Liars" on Free Form and it is sure to be a drama filled one.
If you recall in last weeks episode "Where Somebody Waits For Me" the truth about the Liar's personal lives start to come forward. Spencer (Troian Bellisario) learns her mother's hiding a secret, Aria (Lucy Hale) confesses to Liam (Roberto Aguire) about Ezra's (Ian Harding) book plus Ali (Sasha Pieterse) admits she and Elliott (Huw Collins) are more than friends. Meanwhile, Mona (Janel Parrish) reveals her true allegiances and Emily (Shay Mitchell) and Hanna (Ashley Benson) receive shocking threats.
The synopsis for episode 17, "We've All Got Baggage," reads: "Two lovers finally get married with a special officiant's help; the Liars investigate a new suspect in the case; Aria tells Ezra the truth about her involvement with his book; Spencer and Caleb (Tyler Blackburn) deal with a media leak; and Emily's harassed by a stalker while she continues her search for Sara (Dre Davis)."
A few sneak peek clips have been released for the episode and in the first we see Aria talking with Liam about telling Ezra the truth about his book. In the second clip Emily is at school when she meets a handsome young man named Damian. Check out both clips below:
You can watch "Pretty Little Liars" episode 17 "We've All Got Baggage" on Free Form Tuesday Feb. 23 at 8:00 p.m. ET. Free Form offers a live stream service via its website, you must subscribe to Free Form through your cable provider to watch.
If all else fails you can watch the episode live here, here and here.
© 2023 Latin Times. All rights reserved. Do not reproduce without permission.