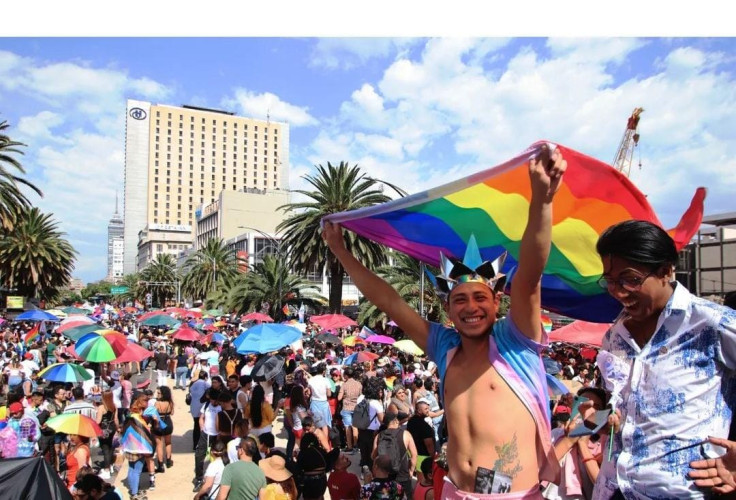 The desire to celebrate themselves for who they are, to demand respect for their rights and condemn violence against them was stronger than the heat wave.
Before noon, thousands of members and allies of sexual diversity filled Paseo de la Reforma and the streets of the capital's Zócalo to join the 45th LGBT+ Pride March. Wherever one looked, the symbolic colors of the community could be seen in multiple forms.
Not only was it a massive demonstration, as nearly a quarter of a million people attended, but it also brought together several generations. Young people, children, teenagers, adults, and people over 60 years old alike dressed up in fantasy costumes that gave a playful touch to the demonstration.
There were pirates, Vikings, butterflies, angels, fairies, dancers, Harry Potter, and Mario Bros. Also, despite it being 82 Fahrenheit degrees, there were dinosaurs, ajolote and pikachu botargas. To cope with the high temperatures, there was no shortage of alcohol on offer: beer, Smurfs, tequila, vodka, and aguas locas.
The progress was slow and there were also countless merchants offering flags with the colors of diversity, hats, earrings, flower necklaces, fans, and umbrellas, among other items. There were also numerous stalls selling snacks and, as well as make-up for the occasion. There were also hydration booths provided by the Mexico City Government.
The comings and goings of people intensified as the time set for the start of the walk, which took place on the eve of June 28th, International LGBT+ Pride Day, drew nearer. After 12 p.m., the contingents left the Angel of Independence towards the capital's Zocalo. Among the first was a group of relatives of missing people of diversity, a little further back was the Dissident Block, along with older trans women. There were also groups that denounced transfeminicides and demanded attention to HIV/AIDS.
María Guadalupe Suárez said she is looking for her daughter Margarita Cuevas, a 19-year-old lesbian. She disappeared in 2022, after going out with some friends to a party. It happened in Xochimilco, "searches were already made in the house where she was, but nothing was found, one of the boys ran away".
This is the first time he has participated in the march. "It gives me sadness and pleasure to be here". Brenda Vargas, a trans woman, older adult, compared what she experienced in her youth with what is happening now. "Marches like this had helped to make us visible, to make people understand us and support us." None of that was happening in the early 1970s when we were persecuted and killed by public security agents.
Although what could be heard the most was the street vendors offering "cold beers", there were also slogans. Among a batucada on stilts, one heard: "At night, during the day, long live whoredom!"; others chanted: "I hope it fills you with pride to be who you are", "Live with freedom and shout who we are" and "No more LGBT+ disappearances".
Despite the inclement sun, the mood did not wane. There was dancing to the rhythm of pop, electronic and batucada music, as well as tiny outfits and transparencies, which made bare skin a constant.
Members of the Bloque Disidente (Dissident Bloc) advanced to the cry of "out brands", in rejection of the commercialization of the demonstration and insisted that it not only be a "spectacle".
Although the organizers clarified that it was a non-partisan demonstration and that no political institute would be allowed to "ride" on the cause, some flags of Movimiento Ciudadano were seen. Leaders of the Dissident Bloc sprayed one of these with aerosol and set it on fire. It did not escalate.
As part of the protest, some demonstrators painted graffiti, one on the Winged Victory and others on urban furniture.
Unlike what happened with feminist marches, yesterday there were no curtains down, on the contrary, all businesses were open and crowded by members of the community, especially food stores, and bars. To show their empathy for the movement, the establishments were decorated in the colors of diversity: with balloons and flags.
After 2 p.m., the first contingents arrived at the Zócalo esplanade, where two stages were set up. There, artists such as Pecado Perfecto, Manuel Rod, and Somos Talento performed. Giant banners with LGBT+ colors hung from the buildings.
Almost at dusk, there were still those who marched towards the Zócalo, where the music, song, and dance party was at its peak and threatened, for some, to extend until the early hours of the morning in the nightclubs in the area.
© 2023 Latin Times. All rights reserved. Do not reproduce without permission.