On March 31, Meghan Markle and Harry will be fulfilling the big announcement they made back on January 6- of stepping down as senior members of the British Royal Family. In preparations of the same, the couple made their last appearance as the Duke and Duchess of Sussex on March 8 during the Commonwealth Day service at Westminster Abbey.
But the news is, that the fitting farewell was disrupted by Harry and Meghan Markle getting all "emotional and upset" for not being a part of the Queen's arrival party. As per Daily News' report, the couple didn't take it well when they came to know that they would not be permitted to join the Queen, the Prince of Wales and the Duchess of Cornwall and the Duke and Duchess of Cambridge in the main VIP party.
They were instead instructed to find their way to their seats on their own and like others, wait for the arrival of the senior royals. As per eyewitnesses, it was Prince William and Kate Middleton who handled the situation by joining Harry and Meghan as they waited for the Queen, Charles, and Camilla to arrive.
But even as they tried to diffuse the situation they managed to exchange some awkward hellos only as the duchess, 38, in a red Catherine Walker coat and a matching hat, more or less avoided Harry and Meghan, William only awkwardly welcomed his brother, who also responded in the same way leading to little interaction between the duo. But after that, while conversations between the former fab four may have taken place off-camera, Harry, 35, had a pensive look on his face and appeared not at all okay with the tension in the air.
On the other hand, Meghan Markle maintained a big smile throughout it all. Dressed in an emerald green Emelia Wickstead dress with a hat by William Chambers, bag by Gabriela Hearst and Aquazzura heels, she was persistent to catch William's attention who didn't appear to hear the first greeting. But when she called out a "hello" the second time, he did greet her with a smile and a quick hello. Meghan then proceeded to engage in an animated chat with Harry's uncle Prince Edward.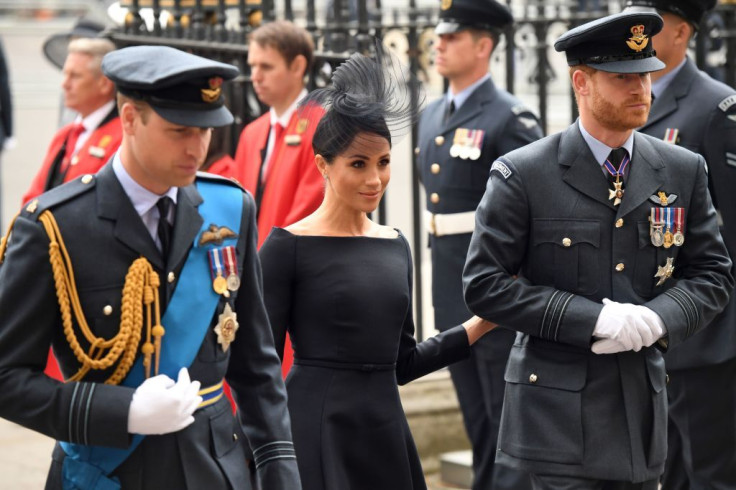 © 2023 Latin Times. All rights reserved. Do not reproduce without permission.