Jacob Blake, a 29-year-old Black man, is in a serious condition in the hospital after he was shot multiple times in the back by the police as he opened the door of his parked vehicle in Kenosha, Wisconsin. After a graphic video of the shooting went viral on social media on August 23, angry protests engulfed the city prompting the authorities to declare an emergency curfew. But it did little to diminish the protestors.
Governor Tony Evers had earlier identified Blake and confirmed that he was "shot in the back multiple times, in broad daylight."
"While we do not have all of the details yet, what we know for certain is that he is not the first Black man or person to have been shot or injured or mercilessly killed at the hands of individuals in law enforcement in our state or our country," Evers said in a statement.
Following the mass protests, the National Guard was deployed to Kenosha County "to help protect critical infrastructure and assist in maintaining public safety and the ability of individuals to peacefully protest" the Guard's public affairs office said in a statement.
"I know folks across our state will be making their voices heard in Kenosha and in communities across Wisconsin," Evers said in a statement. "Every person should be able to express their anger and frustration by exercising their First Amendment rights and report on these calls to action without any fear of being unsafe."
Protesters continued their demonstrations despite the mobilization of the Wisconsin National Guard and the emergency curfew on Monday night. The Kenosha County Courthouse became the focal point of the protests while law enforcement barricaded the area and used tear gas to disperse the protesters in front of the courthouse. In retaliation, protesters threw water bottles at the officers.
The protests turned violent, as they did on Sunday, where trucks and buildings, including the Wisconsin Department of Corrections building, were set on fire.
"Kenosha County recently declared racism to be a public health crisis, and our leaders – myself included – have resolved to address this issue in a meaningful way. Sunday's tragedy and the ensuing reaction reinforce the need for change in our community," County Executive Jim Kreuser said in a statement.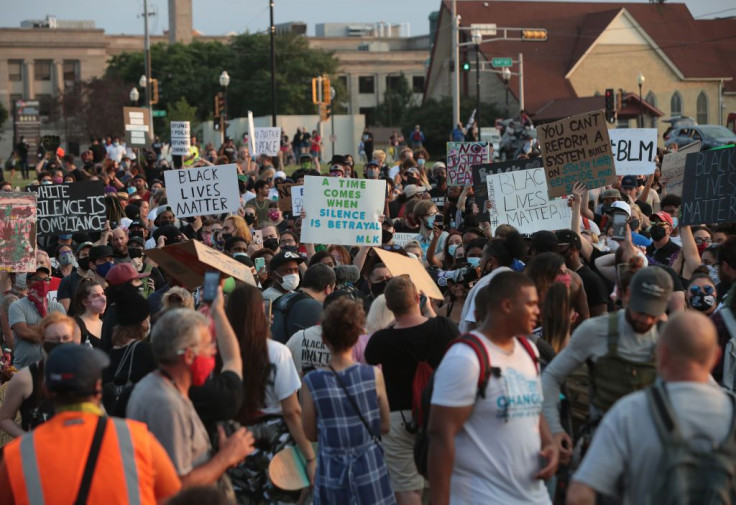 © 2023 Latin Times. All rights reserved. Do not reproduce without permission.