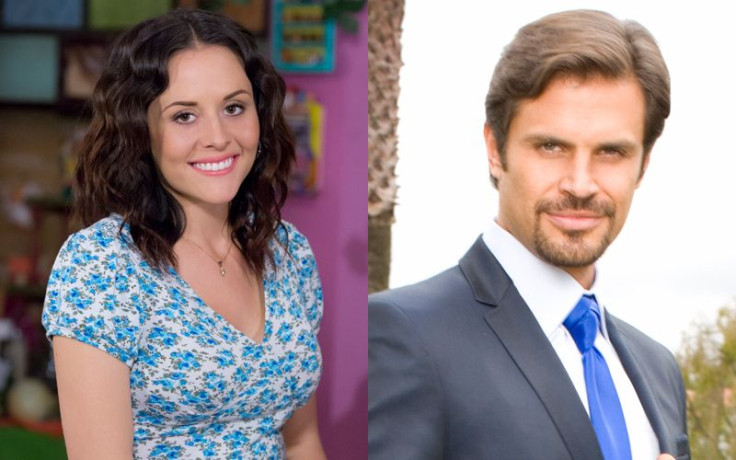 "Que Te Perdone Dios" is the new title of the "Abrázame Muy Fuerte" remake that Televisa is working on. Zuria Vega and Mark Tacher have been confirmed to be the lead couple of this new telenovela. As you remember both actors recently wrapped up production "Que Pobres Tan Ricos" where she was the protagonist and he was the villain that made her life miserable. Vega confirmed the news herself on her Twitter account. "Very happy to share that I start a new project," she wrote. "Here we go again Mark Tacher." Production will be run by Angelli Nesma who has brought us some of the biggest hits like "Lo Que La Vida Me Robó," "Abismo De Pasión" and "María La Del Barrio." This new melodrama is set to air on Univision before it's broadcasted in México, starting January 2015 after "La Malquerida."
"Abrázame Muy Fuerte" is the story of Cristina (Ruffo), a young girl whose sweet disposition endears her to everyone at "El Platanal," her father's beautiful hacienda. Her father, Don Severiano Alvarez, is a rugged, iron-willed rancher. His foreman, Diego Hernández, is a strong, handsome young man who is madly in love with Cristina, and she surrenders herself, body and soul, to his passion. Cristina admits to her father that she is pregnant with Diego's child. Severiano sends her to the city with her servant Raquela. There, her daughter is born. Federico Rivero (Evora), a cruel and greedy individual, takes advantage of this situation and arranges for the baby María del Carmen (Arámbula) to be brought to the hacienda as Raquela's daughter. In order to be close to her daughter, Cristina is forced to marry Federico. From this moment on, she will pass as María del Carmen's "Godmother." Federico causes an accident that leaves Cristina blind, and takes possession of her fortune.
Years go by and María del Carmen is now a beautiful young girl. Cristina has taken pains to provide her with a good education. Everyone at the hacienda loves her, especially José María (Pablo Montero), a lowly ranch hand. Believing she is Raquela's daughter, he dreams of one day marrying her. The arrival of Federico's nephew brings him great joy. Carlos Manuel (Colunga) is now a handsome young doctor who has recently completed his studies abroad. Carlos Manuel falls in love with Déborah Falcón (Nailea Norvind), not realizing that she is his uncle's lover. When Federico finds out about their relationship, he looks for the way to drive them apart. María del Carmen falls in love with Carlos Manuel from the moment they meet. Realizing their young love, Déborah joins forces with Fedrico and manages to separate them, but for all their scheming, they are unable to kill their love.
© 2023 Latin Times. All rights reserved. Do not reproduce without permission.