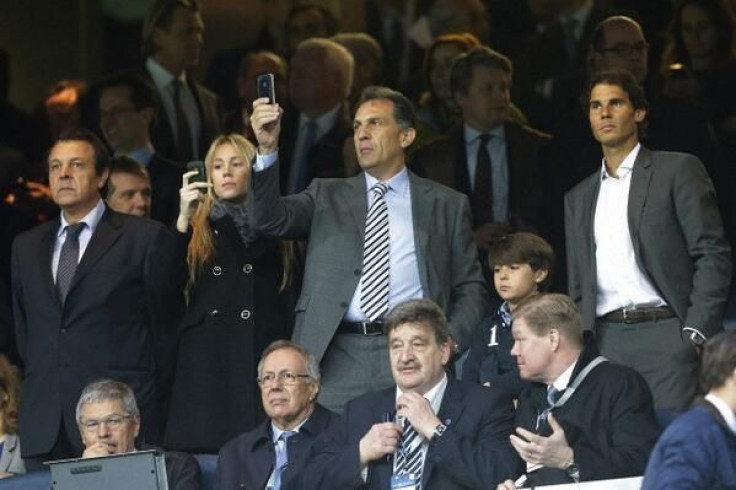 The current defending champion of the U.S. Open will not be defending his title this year. On Monday, Rafael Nadal, Spain's greatest tennis player wrote on his Twitter and Facebook accounts that he would be withdrawing from this year's tournament due to a right wrist problem.
"I am sure you understand that it is a very tough moment for me since it is a tournament I love and where I have great memories from fans, the night matches, so many things. He wrote on Facebook. "Not much more I can do right now, other than accept the situation and, as always in my case, work hard in order to be able to compete at the highest level once I am back."
The 28-year old Spaniard was injured last month while practicing at home on the island of Mallorca. After the injury, Nadal announced that he would miss the next two tournaments in Toronto and Cincinnati and was seen in training wearing a wrist protector.
Nadal is 44-8 in 2014, and has won four titles. The 14-time major champion won his ninth French Open in June, but has not competed since being ousted in the 4th round at Wimbledon. Nadal has had great success at the U.S. Open, and his rivalry against Djokovic at Flushing Meadows has been historic. Either Djokovic or Nadal has been in the Men's final over the last four years; with Djokovic winning in 2011, and Nadal winning in 2010 and 2013, both against "the Joker".
Nadal now becomes only the fourth ever defending champion in the Open era (after 1968), to not defend his U.S. Open title. Ken Rosewall in 1971, Pete Sampras in 2003 and Juan Martin del Potro in 2010 all were unable to compete after winning the hard court title.
The U.S. Open starts next week in Flushing Meadows and with Nadal out of contention; we could see a rematch of the epic Wimbledon final from last month. Novak Djokovic won the final against veteran Roger Federer who will turn 33 by the time the tournament starts. Federer hasn't won a grand slam in over two years, and has not won the U.S. Open since 2008, but insists, "my game is exactly where I want it to be." With the #2 ranked player in the world, Rafa Nadal, not competing, Federer will bump up to #2, meaning that a clash in the final between Federer and Djokovic could be imminent.
After the announcement, Nadal was seen watching the first leg of the Supercopa de Espana on Tuesday. Nadal who is the self proclaimed number one fan of Real Madrid, was seen in the stands cheering after James Rodriguez scored his first goal for Real. After the match, Nadal was asked when he would be back on the tennis court:
© 2023 Latin Times. All rights reserved. Do not reproduce without permission.