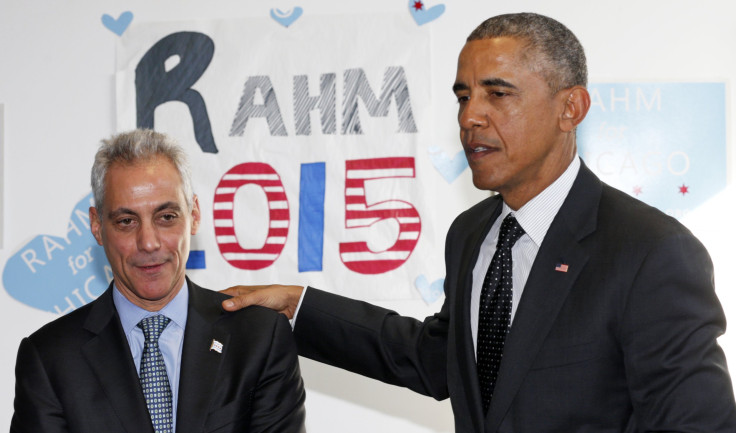 Rahm Emanuel has almost certainly been reelected as Chicago's mayor after a tight race that pitted him, the favorite, against what some had seen as a cinderella campaign from a further-left candidate, Jesus "Chuy" Garcia. With 53 percent of precincts reporting, and the incumbent up 56 percent to 44 percent, outlets like the Sun-Times and Politico agreed that votes were within the margin of error to call Rahm the winner.
Rahm Emanuel pulled out all the stops ahead of Tuesday's election. He knocked doors. He shook hands. He even got President Barack Obama to visit his campaign headquarters. Unable to win 50 percent in a general election, Rahm was forced into a runoff with his underdog challenger Chuy. Rahm had surprised many Democrats with his policies of cutting school funding, and his reliance on Republican donors to execute his campaign. In debates, Rahm and Chuy sparred over Emanuel's unpopular school shutdowns, Garcia's lack of executive experience, and at one low point, Garcia's ex-gang-member son (Emanuel called the question unfair).
Garcia and his supporters hoped to make him the first Latino mayor of Chicago, a city with a Hispanic population of around 30 percent. He decided to run after a long career in politics, which included serving as an Illinois state senator, city alderman, and county commissioner. His experienced didn't match up against the national profile of Emanuel, who was a leader of the DCCC and a top staffer on the Obama administration. Garcia grounded his campaign in the political legacy of Harold Washington, Chicago's first black mayor. He reportedly assembled an army of 5,000 campaign volunteers to turn out the vote on Tuesday. Polls closed at 7pm in most districts and 8pm in a few districts with precincts reporting a relatively low turnout of around 40 percent.
© 2023 Latin Times. All rights reserved. Do not reproduce without permission.