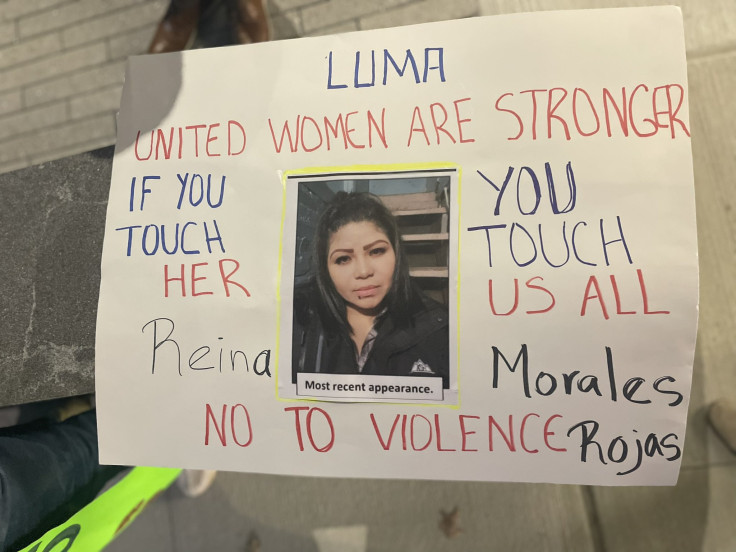 90 days have passed since East Boston resident Reina Morales Rojas vanished.
Family members are left wondering how the police handled the missing person's case because there is no new information regarding the whereabouts of the 41-year-old.
At a protest on Sunday, Boston city council members, advocacy organizations, and neighbors came out in support of Rojas and her family.
Advocates within the local Latino community, particularly the Everett-based organization Latinos Unidos en Massachusetts (LUMA), have made a public push in response to Morales Rojas's case. Through multiple vigils, LUMA has criticized what they described as a lack of action and transparency in the investigation, CBS News reported.
"We have questions, and we have no answers," said Lucy Pineda, the head of Latinos Unidos en Massachusetts.
"If the designated authorities had taken immediate actions on Reina's case, we could have had a different outcome but, we still have not found Reina because authorities did not give enough importance to a Central American Immigrant's case," Pineda added.
Described as a 5-foot-5 Hispanic woman weighing around 145 pounds, with black hair and brown eyes, Morales Rojas got into a car in Somerville in November and disappeared without a trace. It wasn't until January that the Boston Police Department put out an appeal to the public, reports Boston.Com.
"That is a big discrepancy that says volumes," Boston City Councilor Julia Mejia said.
Sunday's rally was held at the police department in East Boston. It included family members by phone from El Salvador.
Mejia said, "This case with Reina is not uncommon. Women of color all across the country are going missing."
There are currently more than 22,000 open missing persons cases in the U.S. Massachusetts has 181 cases.
A search for Rojas on the National Missing and Unidentified Persons Database brought up a blank page, besides a basic physical description and last known whereabouts.
"We don't want to interfere, but what we want is to feel like we're being heard," Mejia said.
In a joint statement released over the weekend, East Boston's state Sen. Lydia Edwards, state Rep. Adrian Madaro, and City Councilor Gabriela Coletta said the case "underscores the need for due diligence in pursuing justice for women of color and the importance of ongoing dialogue and engagement between immigrant communities and law enforcement."
Regarding the incident, WBZ-TV contacted the Boston Police Department. They claimed to be in constant communication with Rojas' family and have published interviews and are coordinating their search efforts with those of the local law enforcement agencies.
© 2023 Latin Times. All rights reserved. Do not reproduce without permission.