Authorities identified the remains found at the site of the Nashville Christmas bombing as those of Anthony Quinn Warner, the man behind the explosion. Officials said on Sunday that Warner was the sole fatality in the bombing.
In a press briefing, U.S. Attorney Don Cochran said Warner was the tech expert behind the blast. "He was present when the bombing went off, and then he perished in the bombing," he said.
Forensic experts used forensic testing to match the remains found at the bombing scene with the DNA of Warner and his relatives. Previous reports revealed that investigators were looking at whether the suspect touched off the explosion over his fears of 5G cellular technology and his doubt that it was being used to spy on Americans.
The police did not discuss the motive behind the bombing but said an investigation was already underway as of Sunday. Part of the investigation was closely monitoring the bomber's activities prior to the incident, including his online activities.
Before the explosion, an ominous recording surfaced from the RV warning the public to leave the area. The recording also included a countdown to the explosion and featured the classic pop song by Petula Clark, "Downtown."
Authorities believe that Warner carried out the bombing alone and that he was not affiliated with any group. Prior to the bombing, he was not known to be on the radar of any law enforcement agencies.
On Sunday, the Metro Nashville Police Department posted a 39-second video of the blast, showing a man walking away from the explosion scene. This was followed by a blast that shook the MNPD camera and dislodged a traffic light. The video showed the wreckage left by the bombing and immediately went viral on Twitter.
According to police, the Nashville Christmas bombing left three people injured and caused significant damage to property, including an AT&T building. The impact of the blast also knocked out cell service across Nashville and much of the south.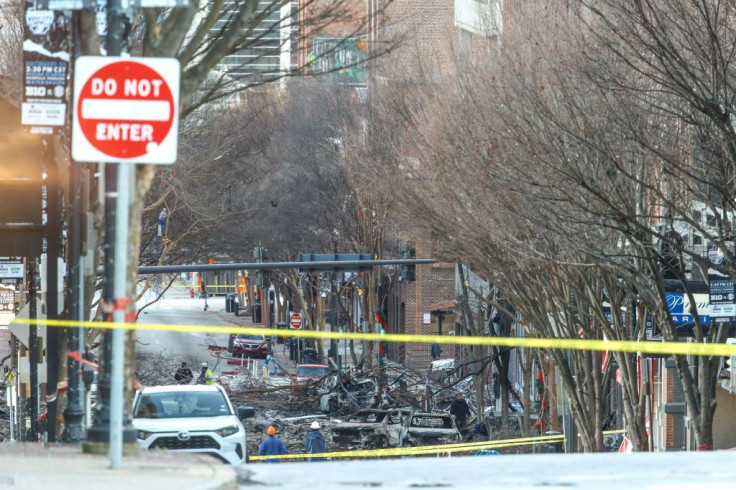 © 2023 Latin Times. All rights reserved. Do not reproduce without permission.