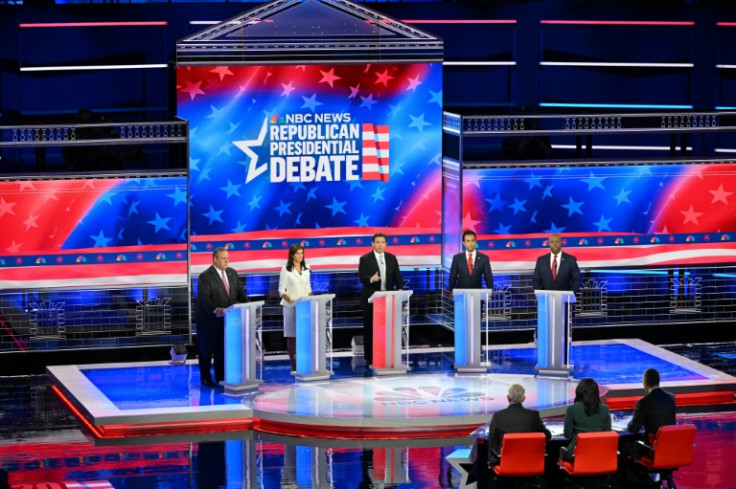 Potential military present in the U.S. southern border was a salient issue in the third Republican Primary Debate, with all five candidates present saying they would support such measure. Other likely hot button issues for the Latino community, both in and out of the country, such as migration from Venezuela and broader border security were present in the event, hosted by NBC in Miami.
Donald Trump, who's leading the poll with a significant advantage over his adversaries, again refused to take part in the event, instead hosting a rally in Hialeah, also in Florida. He will also grant an interview to Univision on Thursday.
Here's a recount of the moments that may have garnered the most attention from Latinos:
The First Mentions of The Southern Border
All five candidates (Chris Christie, Tim Scott, Nikky Haley, Vivek Ramaswamy and Ron DeSantis) mentioned in some form or another that they supported adding military presence at the southern border, whether it be protection at the ports of entry or using force against cartels.
As the first candidate to speak, DeSantis was quick to mention the southern border while calling out former President Donald Trump for not showing up at the event and explaining why he didn't have Mexico pay for the border wall, a campaign promise of his. Later in the event, DeSantis said he would continue building a wall and have Mexico pay for it.
The first one to mention the use of military force at the southern border was Ramaswamy, including the topic in his first response of the evening when candidates were asked what they would urge Israel Prime Minister Benjamin Netanyahu to do if they were president.
"So what I would tell 'Bibi' is, Israel has the right and the responsibility to defend itself," Ramaswamy said. "I would tell him to smoke those terrorists on his southern border, and then I'll tell him as president of the United States, I'll be smoking the terrorists on our southern border. That's his responsibility, and that's our responsibility. That's how we move forward."
Scott said that after supporting Israel the U.S. needed to focus on closing the southern border, which he said he believes is an entryway for sleeper-cell terrorists, a sentiment candidate Haley echoed earlier in the debate.
"And then, as we turn away from that direct support for Israel, we should go to our southern border and close our southern border with the resources necessary," Scott said. "I believe that we have sleeper terrorist cells in America. Thousands of people have come from Yemen, Iran, Syria and Iraq. If we're going to deal with the national security emergency at the border, we have to do it now."
About Fentanyl and Sending Military Presence to The Southern Border
Scott said that if he were president, the first thing he would do to stop the flow of fentanyl into the U.S. is spend $10 billion to close the southern border. Then, he would spend another $5 billion to use military technology to surveil the area, which he said would stop fentanyl from crossing. He said he's already led legislation that would sanction cartel accounts.
Scott said this funding to the southern border would help deal with fentanyl overdose deaths and human trafficking.
Christie said that the quickest way to prevent fentanyl from crossing would be to beef up security at ports of entry. Additionally, he said on day one, he would sign an executive order sending the National Guard to partner with border patrol at ports of entry and open entrances. Christie said customs and border patrol agents are overwhelmed with more than 200,000 encounters at the southern borders a month.
Christie also stressed that the U.S. needs to treat the problem of addiction, which he said is a disease.
As for DeSantis, he said: "We're declaring it a national emergency on day one. I'm sending U.S. military to the border. I'm going to stop the invasion cold," DeSantis said. "I am going to deport people who came illegally, and I'm even going to build a border wall, and I'm going to have Mexico pay for it."
About this latter statement, he said Mexico would pay for it by imposing fees on remittances workers send back. Additionally, he said he would designate cartels as foreign terrorist organizations or create a similar category and he would authorize the use of deadly force, as well as introduce maritime operations to intercept precursor chemicals going into Mexico to produce the drug.
"But I'll tell you this. If someone in the drug cartels is sneaking fentanyl across the border while I'm president, that's gonna be the last thing they do. We're gonna shoot them stone-cold dead," DeSantis said.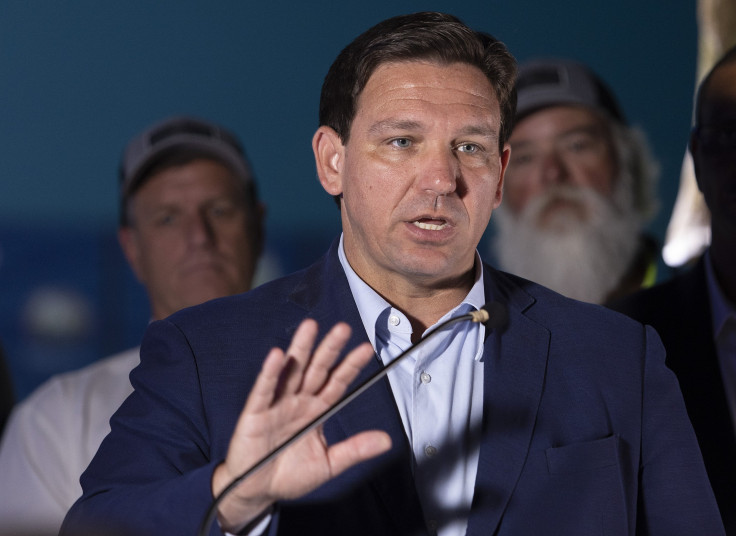 Haley said what she would do is "go to the source" and stop all normal trade relations with China, considering reports showing that precursors used to produce the drug have come from the country. She said she would then send in special operations into Mexico to take out the cartels, put 25,000 more border patrol and ICE agents on the ground, defund sanctuary cities, go back to the remain in Mexico policy, and instead of catch and release, they will catch and deport people at the border.
Haley also said mental health needs to be addressed to mitigate addiction.
Ramaswamy said he would build a good relationship with the next soon-to-be president of Mexico in 2024 (the country will hold presidential elections in June 2024) and use the U.S. military to seal the southern border, but he would also address the northern border. He said enough fentanyl was seized at the southern border to kill 3 million people.
What each candidate said about Venezuelan relations
Welker asked only DeSantis and Haley whether they thought Venezuela's political situation is a threat to the U.S.
DeSantis said the U.S. should never depend on Venezuela for oil, scrap the Green New Deal and lower gas and energy prices. He said he wants the U.S. to be more energy independent and that Biden's Green New Deal supports Venezuela.
"So I would turn the screws on the Venezuelan regime. I think it's a corrupt dictatorial regime, and we should never be hat in hand begging for oil from them," DeSantis said. Additionally, he said he would reimpose sanctions against Venezuela, which Biden pulled back on in exchange for electoral guarantees.
Haley had a similar approach as DeSantis, saying the U.S. needs to do everything it can to sanction Venezuela's President Nicolás Maduro. Additionally, she said the U.S. should not be getting dirty oil from them. She also said she believes that Biden giving 500,000 Venezuelans temporary priority status will incentivize more Venezuelans to come to the U.S.
© 2023 Latin Times. All rights reserved. Do not reproduce without permission.