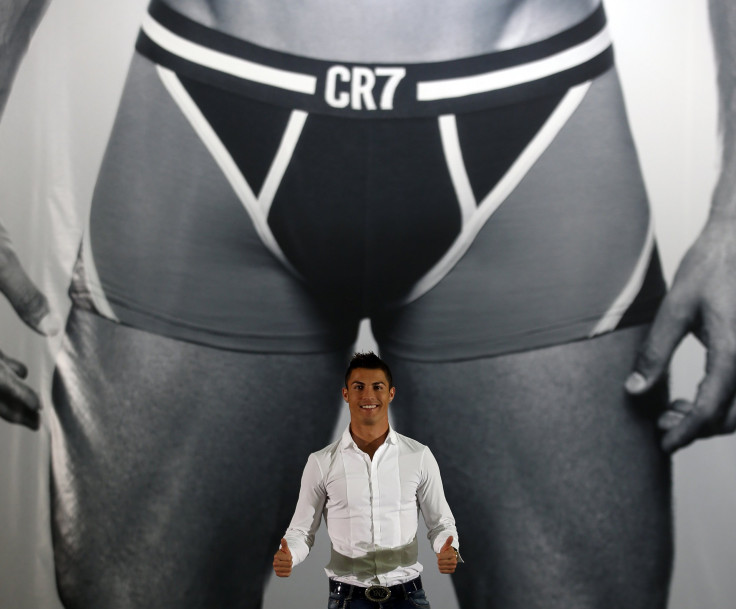 Well if this doesn't get your panties in a bunch, we don't know what will. News out of Rhode Island on Wednesday cites a lawsuit in which a local Providence man is suing the world's most famous soccer player. Christopher Renzi, who was born on October 7th (you can see where this is going), claims that he owns the United States trademark for the phrase "CR7" and he is trying to sue Real Madrid superstar Cristiano Ronaldo for using the phrase on his underwear line launched in October 2013.
CR7 underwear is a popular item sold in clothing stores throughout Europe. Recently, in an interview with Vogue magazine, Ronaldo told a reporter that his current girlfriend, Irina Shayk, steals his famous CR7 briefs. The lawsuit started when JBS Textile Group asked the United States Patent and Trademark Office to cancel Renzi's trademark of the phrase "CR7" stating that they were entering the U.S. market and planned to sell Ronaldo's clothing line to American consumers.
Renzi was awarded a victory earlier in the week, when the office denied JBS Textile Group's request to cancel Renzi's patent upholding Rhode Island law. However, there's a catch. Renzi was given until March 26th by the judge overseeing the case to locate Ronaldo and serve him papers. Thus far, according to Renzi's lawyer, they have been unable to track down the world's most recognizable star after being thwarted by Real Madrid's official headquarters and attempting to camp outside Ronaldo's house.
According to documents from the U.S. Patent and Trademark Office, Renzi applied for the trademark in 2008, before the "CR7" clothing line launched, but well after Ronaldo earned the nickname after being given the number 7 shirt by former Manchester United manager Alex Ferguson in 2003. Renzi claims he uses the trademark for his clothing and exercise videos he sells in Providence, Rhode Island and that it stands for his initials and his birthday of October 7th.
We will keep you updated on whether or not Mr. Renzi is successful in suing Cristiano Ronaldo by March 26th of next year. In the interim, we tried to contact Real Madrid's headquarters to see if they knew anything of the lawsuit and we were told the office was closed.
© 2023 Latin Times. All rights reserved. Do not reproduce without permission.