Ricky Martin confirmed that he will release a new album next year. The singer relayed that the record will feature music that he made after getting inspiration from his most recent experiences in Puerto Rico where he joined in the protest to oust Gov. Ricardo Rosello.
It can be recalled that in July, the 47-year-old Latino singer got himself involved in political rallies to get the governor to resign. With his participation in the mass protest, he was respected and found brotherhood with fellow Latin musicians Residente and Bad Bunny.
"Puerto Rico is a very small island, but damn, we're musical!" Martin told Entertainment Weekly. "It's incredible, but we look for any excuse to make music."
With regard to his music, Martin explained that the type that he is doing has an extensive scope that is why he can infuse his lyrics with the current events. He emphasized that despite this fact, singers like him should keep their identity when producing music.
"My music is Latin pop, and when you say 'Latin pop,' the spectrum is so broad," he explained. "It's inevitable to not be influenced by everything that's happening in the industry, but always keeping your identity firm by knowing who you are."
In any case, prior to the release of his album in 2020, Ricky Martin also recently made his debut as a host at the Latin Grammy Awards. It was held on Nov. 14 and prior to the ceremony, AP News reported that the "Livin La Vida Loca" singer was excited to perform with Residente and Bad Bunny.
He was on stage with them to perform his newest song titled "Cántalo." Martin hosted the awards night with two actresses Paz Vega and Roselyn Sánchez.
Meanwhile, Rick Martin also announced that he will go on tour and it will begin in early 2020. As per Billboard, he will hit the road starting Feb. 7 and the tour called "Movimiento" will kickstart at the Coliseo de Puerto Rico José Miguel Agrelot. The selling of tickets for the shows started on Oct. 24 and will remain open until it gets sold out.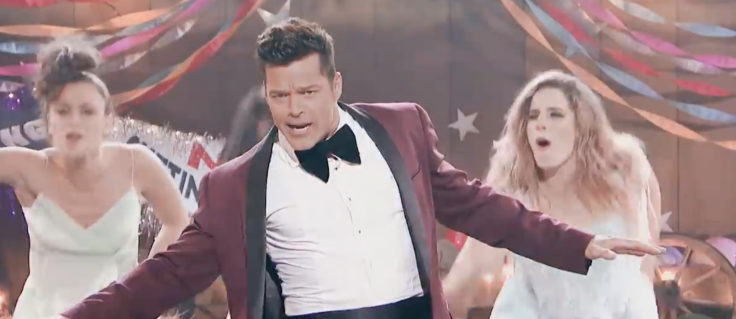 © 2023 Latin Times. All rights reserved. Do not reproduce without permission.