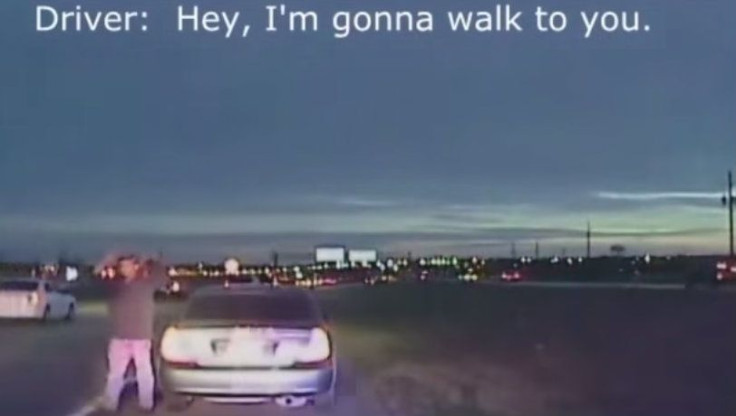 In Texas, a grand jury announced on Monday that a Grapevine Police Department officer will not be indicted on Monday after he shot an unarmed Mexican man. It's the third death this year involving questionable police tactics and Mexican immigrant men. With the investigation closed, video of the Feb. 20th incident was released. Yet neither the video nor the grand jury's decision put the case to rest. Officials say that video shows Officer Robert Clark acting within the bounds of the law when he shot the immigrant man, Rubén García Villalpando, 31. Representatives of Villalpando say that the video shows Clark shooting Villalpando after he submits himself for arrest and shows that he is unarmed.
"If my husband had killed a police officer, he would be in jail," Marta Romero, Villalpando's widow told CNN. "But since it was the opposite, will they just leave it this way? Because an officer killed a man, because he killed an illegal and nothing more? What are a human's rights then? Now an animal gets more rights than a man."
Clark had circumstantial evidence -- a simple description related to a neighborhood robbery -- when he tried to pull Villalpando over in a residential apartment complex. Villalpando was likely over the legal alcohol limit when he fled, taking Clark on a high-speed chase along a freeway before finally pulling over. Villalpando was not involved in any robbery. Why did he flee, in a state where DWI is a commonplace offense (85,000 people get arrested every year)? That's likely because Villalpando, and undocumented immigrant, had a prior DWI conviction on his record, and he was afraid that this offense would get him deported.
An unedited version of the video was disturbing for family members who told reporters during interviews that the police officer's conduct did not seem appropriate. He's also visibly drunk during the stop, and seems restless. At one point, he approaches the car and ignores police orders to stop. He walks off camera, and that's when officer Clark shoots him Villalparando's brother-in-law points out that
"Nobody deserves to be shot and killed, especially if you are unarmed, if you have no weapons [..]] when you're giving up to a police officer. No matter what you did, not matter who you are, no matter what color, he didn't deserve to be killed. That's it."
In a heavily edited video released on Monday, Grapevine Police walk viewers through their interpretation of the events. It includes jump cuts, omitting the more poring parts, but making it impossible for observers to have a sense of how long things take. It's also laced with the department's own commentary and excerpts that it selected from the indictment report. Villalpando is killed off screen, out of the range of the patrol car's camera, so we can't see the actual moment that officer Clark fires the two shots.
"Officer Clark's actions on that night complied with Texas law concerning the use of deadly force by a law enforcement officer," Grapevine Police Chief Eddie Salame says in the video.
Despite the grand jury decision to clear officer Clark, the Villalpando family says they're not giving up. They're likely to file a civil suit against the city of Grapevine.
"The video clearly shows that Rubén García Villalpando was shot while unarmed with his hands in the air by this officer," said attorney Attorney Domingo Garcia, who is representing the family. "It once again shows that there is a double standard of justice in America. Again we see an unarmed individual shot by a police officer who gets away with murder."
© 2023 Latin Times. All rights reserved. Do not reproduce without permission.