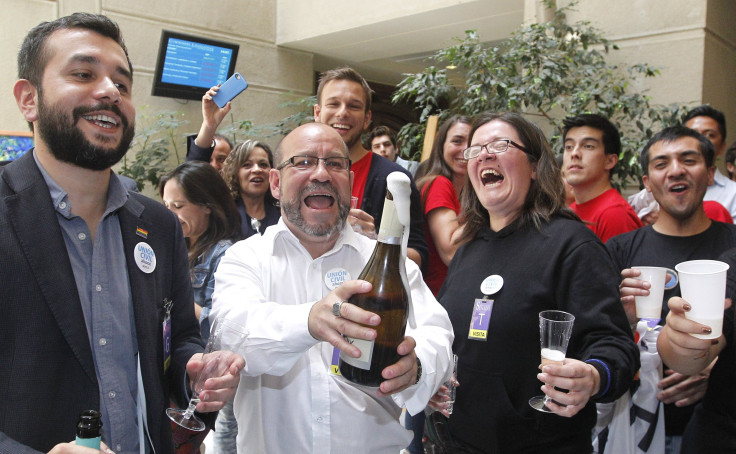 Same-sex unions are the law of the land in Chile after president Michelle Bachelet signed into law a bill that went just short of official "gay marriage." It's a big step for Chile, where homosexual sex was crime as recently as 1999. The new law allows gay couples to register civil unions with any notary in Chile or at foreign consulates. While it falls short of full marriage rights, it will end much of the discrimination against LGBT couples in areas such as hospital visits and medical decisions, as well as legal regulations around property, pensions, and inheritance, according to CNN.
"This is a concrete step on the road to ending the difference between heterosexual and homosexual couples. We say to those who can't solidify their union through marriage that we don't' want that to hurt their health, their partner, or their children," President Bachelet said. She was joined by activists who said that the new law signaled a social change, in addition to a legal one.
"This ends the monopoly of having to recognize unions, families, as just within marriage," Rolando Jimenez, president of the Gay Liberation and Integration Movement, told the AP. "This is very good news for Chile."
A wave of LGBT-friendly bills and judicial rulings has swept across South America in recent decades, overcoming opposition from Church and family values groups. Looking at those countries as an example, it's likely that Chile could see full gay marriage rights within 5-10 years. Argentina made same-sex marriage legal in 2010, after civil unions began to be recognized starting in 2002. In Brazil, a 2013 Federal Court decision killed gender distinctions in marriage. Recognized civil unions began popping up in that country as early as 2004, and gained national legitimacy in 2011. In Brazil, Chile, Argentina, and Uruguay (where gay marriage is also legal), same-sex unions have popular support of around half of the population.
That's not the case in other Latin American countries, where same-sex marriage advocates face an uphill battle. According to a Pew study conducted in 2013, less than 30 percent of residents of the following countries supported gay marriage: Venezuela, Costa Rica, Colombia, Perú, bolivia, Panama, Dominican Republic, Ecuador, Nicaragua, Paraguay, El Salvador, Guatemala and Honduras. Where might same-sex marriage crop up next in the Americas? Like the U.S., marriage in Mexico is governed by state law. Also like the U.S., some states have allowed it, while others have banned it, while cases are working their way through the courts that could have a national impact.
© 2023 Latin Times. All rights reserved. Do not reproduce without permission.