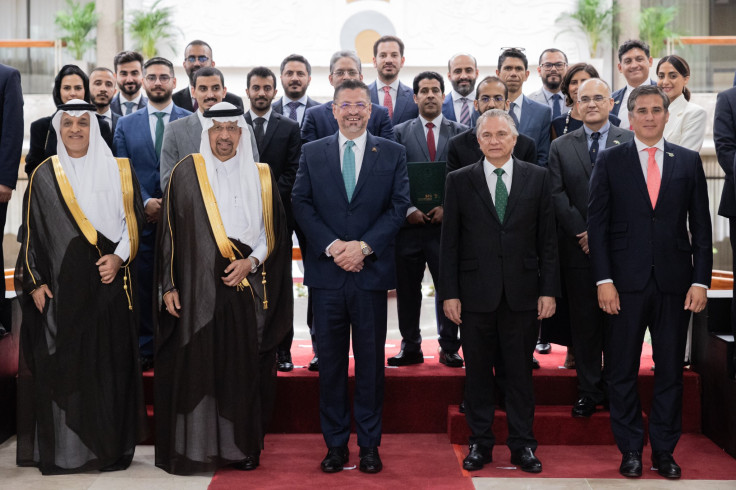 Saudi Arabia has decided to open an embassy in Costa Rica's San Jose in an attempt to improve bilateral ties.
A technical team from Saudi Arabia will travel to Costa Rica later this month for the establishment of the embassy, reported Arab News.
The decision was announced Monday when Saudi Arabia's Investment Minister Khalid Al-Falih, who was on a visit to the Latin American country, held a meeting with Costa Rica's ministers of foreign relations, Arnoldo Andre, and foreign trade, Manuel Tovar.
Following the meeting, Andre said Saudi Arabia's weight in the global sphere was "undeniable," and called the Kingdom "a strategic partner for Costa Rica." Collective actions with Saudi Arabia were also "planned in favor of the environment, development and cooperation," he added.
Many meetings between the authorities of the two countries were organized after the two nations resumed diplomatic relations in 2015.
For more than two decades, Costa Rica did not have much exchange with the Arab world due to former President Luis Alberto Monge's decision to move the country's embassy in Israel from Tel Aviv to Jerusalem in 1982.
Then in 2006, Costa Rica made the decision to transfer its embassy back to Tel Aviv. This move gradually helped resume ties with Middle Eastern countries. Improving diplomatic as well as commercial ties with Arab nations is being seen as an important move by Costa Rica.
Carlos Cascante Segura, a professor of foreign relations at the University of Costa Rica, said, "Monge had been an ambassador to Israel. He just decided to move the embassy, and all relations with Arab countries were broken," Arab News reported.
Segura said in the last 10 years, Costa Rica "re-established connections with Turkiye, Qatar and the UAE. Saudi Arabia, the most important partner in the Middle East, is a central part in that process."
Andre and Al-Falih had met in February during the former's visit to the Middle East. At the time, they created the Saudi-Costa Rica Business Council to improve bilateral trade. Two months ago, a memorandum of understanding was also signed between Costa Rica and Saudi Arabia to promote commercial relations.
During a meeting with Andre in February, Commerce Minister Majid bin Abdullah Al-Qasabi had said he would make efforts to publicize the Central American nation as a tourism destination for the Saudis.
Costa Rica has been mostly exporting agricultural products like coffee and bananas to Saudi Arabia apart from medical equipment. The country has also become "an important destination for medical tourism and it may draw Saudi tourists as well as tourists from other parts of the Middle East who want to take care of their health," said Bryan Acuna, an expert in foreign relations and the Middle East.
Meanwhile, Al-Falih, who was currently in Costa Rica, also met President Rodrigo Chaves.
Following the meeting, Al-Falih tweeted, "In the presence of His Excellency the Costa Rican President, I participated in an investment forum that brought together a number of senior officials and representatives of public and private sector institutions in the Kingdom and Costa Rica, in which investment opportunities in Costa Rica were reviewed and discussed and ways to benefit from them in the interest of the two countries."
© 2023 Latin Times. All rights reserved. Do not reproduce without permission.