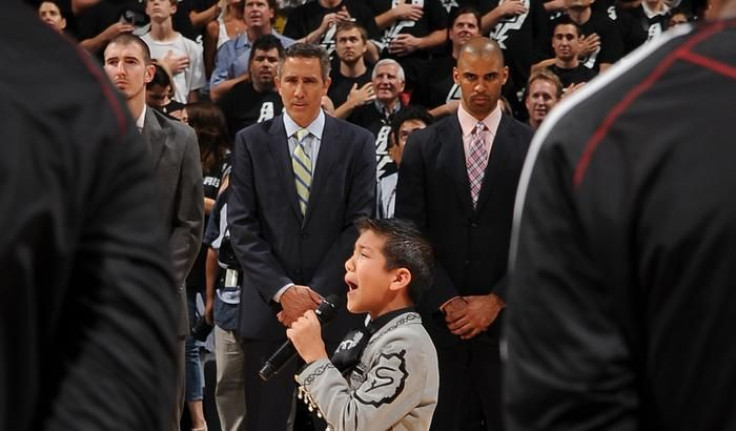 A 10-year-old boy sang the American National Anthem to perfection at Tuesday night's NBA Finals game between the Miami Heat and San Antonio Spurs. Performing his rendition of one of the most recognizable songs in the world, Sebastien de la Cruz - a mariachi singer who appeared on last season's reality show 'America's Got Talent' - is no stranger to the big stage and while he did a masterful job performing HIS anthem, the performance sparked numerous racist tweets from unintelligent fans who didn't like the fact that a Mexican boy was performing America's song.
UPDATE: SEBASTIEN PERFORMS NATIONAL ANTHEM FOR THE SECOND TIME! WATCH HERE
RELATED: Sebastien De La Cruz, Mexican-American National Anthem Singer, Silences Racist Tweets With Eloquent Response [VIDEO]
As you read through these tweets, keep in mind that this young man is an extremely gifted person of Mexican-American origin who currently resides in San Antonio, Texas. The heartless and irrational human beings that posted these tweets for some reason don't realize that a large portion of that city is Mexican, leaving many people baffled as to why these Twitter posts were created in the first place.
RELATED: Sebastien De La Cruz Brushes Off Racist Comments Saying 'It's Off My Shoulders' [VIDEO]
Obvisouly these individuals have no appreciation for the fact that this young man was only trying to sing a song he's probably performed hundreds of times in the past but because many only viewed him as a Mexican singing America's Anthem, they were unable to appreciate the significant talent Sebastian de la Cruz possesses at the young age of 10.
Another tweet from @A2daO even posed the idea that de la Cruz was not here legally. "This lil Mexican snuck in the country like 4 hours ago now he singing the anthem," the user posted.
Clearly, that tweet from @A2daO is completely inaccurate since the young man lives in San Antonio and while that display of racism is surely eye-popping, other fans watching the beginning of ABC's NBA Finals broadcast still felt that de la Cruz is not in the United States leagally, another sentiment that should immediately be brushed from thought since it's so absurd.
Despite the lack of common sense displayed across the Internet last night, the numerous racist posting shouldn't deter young Sebastian from performing the National Anthem at future events since he did a phenomenal job in front of a massive San Antonio crowd, performing the song with a sense of beauty and appreciation.
What these folks didn't stop to think about is the fact that the United States of America is a place where everyone should be able to feel comfortable and welcome. After all, isn't this country supposed to be the 'Land of the Free?'
RELATED: 4 Things to Know About Sebastien De La Cruz
WATCH Sebastian de la Cruz Perform National Anthem:
© 2023 Latin Times. All rights reserved. Do not reproduce without permission.