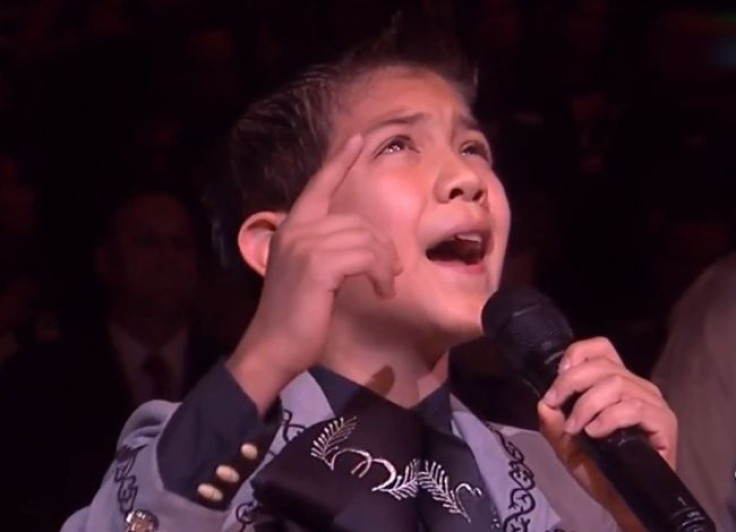 It's been an intense 24 hours for Sebastien de la Cruz, the 10-year-old mariachi who sang the National Anthem on Tuesday night's NBA Finals game between the Miami Heat and San Antonio Spurs.
RELATED:
Sebastien De La Cruz Brushes Off Racist Comments Saying 'It's Off My Shoulders' [VIDEO]
Sebastien de la Cruz, 10-Year-Old Mexican-American Mariachi Singer, Performs National Anthem And Sparks Flurry Of Racist Tweets [VIDEO]
Miami Heat Vs. San Antonio Spurs: When And Where To Watch Game 3 Of The NBA Finals; Preview [LIVE STREAM]
Español:
Sebastien de la Cruz, niño mariachi causa comentarios racistas en Twitter al cantar himno de Estados Unidos [VIDEO]
After his amazing rendition of the Star-Spangled Banner, De la Cruz, who appeared last season on the reality show "America's Got Talent," sparked numerous tweets with a lot of racial comments because he was wearing a mariachi outfit and many thought it was an "insult" having a Mexican perform America's national anthem. Some people even suggested that the kid was in this country illegally using the hashtag #gohome.
The boy was interviewed this morning and his response to the racist tweets showed a very mature kid, very eloquent and put together. He handled the situation like a true professional. "They don't know my life. My father was actually in the Navy for a pretty long time, and I actually salute him today for that and I just wanna thank him, and just to be able to singing the national anthem. People don't know, they just assume that I'm just a Mexican. But I'm not from Mexico, I'm from San Antonio born and raised, true San Antonio Spurs fan."
Putting aside the racist comments, the little boy's interpretation of America's song was breathtaking and even brought some to tears. Could he have been the lucky charm that helped the Spurs take over the game and "humiliate" the Miami Heat? We're not sure, but we sure hope little Sebastien has a very productive future in the music scene.
© 2023 Latin Times. All rights reserved. Do not reproduce without permission.