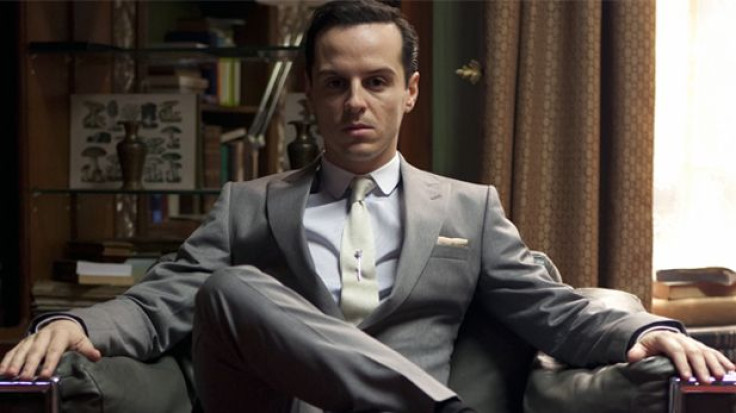 Season four of "Sherlock" is just around the corner and there is one burning question we've been dying to have answered. Is Moriarty (Andrew Scott) alive? If you're somehow behind on "Sherlock" episodes stop reading now as this article contains spoilers!
At the end of season three in the last episode, "His Last Vow," there was a major cliffhanger. To protect John (Martin Freeman) and a pregnant Mary (Amanda Abbington), Holmes (Benedict Cumberbatch) kills Magnussen in front of Mycroft (Mark Gatiss) and several other witnesses, and as a result is sent off on a suicidal assignment overseas. However, he is brought back almost immediately because of a video being broadcast all over London with Jim Moriarty's face asking "Did you miss me?"
This of course lead us to believe that Moriarty is in fact alive and well, but that's almost impossible seeing that he killed himself in season two. However, this show is wildly unpredictable and Moriarty's death could have been faked. Check out these 5 possible theories that explain how he could still be alive.
1. Special Effects - He used a real gun, but the chamber was empty. He could've had one of his snipers fire a shot, near Moriarty. Also, as Moriarty had a coat with a collar, he could've had a blood pouch hidden, and it exploded as he fell.
2. Gentleman's Bet - Moriarty and Sherlock both knew they were going to fake their suicides. Remember Sherlock and Moriarty are intellectual rivals. They're two geniuses playing a game of chess. Moriarty could've made a deal with Sherlock that if his suicide was more convincing than Sherlock's, then he wouldn't reveal the full extent of his network. But if Sherlock did, then Moriarty would let him dismantle it.
3. Twin Brother - This is perhaps one of the more ridiculous theories but it could be possible. In the episode "The Reichenbach Fall," the little girl in the sweet factory investigation screamed because she'd seen Sherlock. Everyone assumed that there was a mask or a Sherlock double, and Sherlock seemed to confirm the latter when confessing how he survived to Anderson. Perhaps Moriarty had a double himself?
4. Rich Brooks - the Rich Brooks character was actually real! And furthermore he killed himself on the rooftop so the real Moriarty could live.
5. Moriarty isn't the real Moriarty - The actor who plays Moriarty is just a pawn and Moriarty is still alive. The gif played at the end of season three was put up by the real Moriarty to show that he/she is still alive.
© 2023 Latin Times. All rights reserved. Do not reproduce without permission.