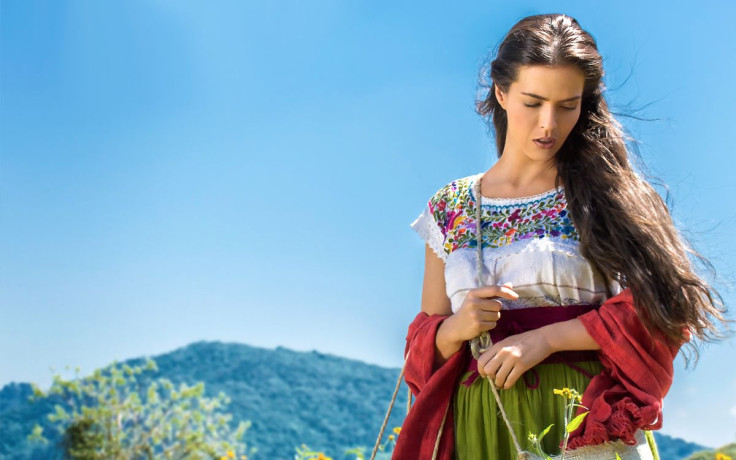 Univision's daytime programming black will be refreshing in the new year with the premiere of "Simplemente María." The telenovela that stars Claudia Álvarez and José Ron starts on Monday, January 8 at 3pm ET/PT. Find out more about the story below and tell us what you think!
OFFICIAL SYNOPSIS: María is a beautiful, strong, and resolute woman who lives in a small town in Mexico. She has a simple life without any luxuries and she doesn't need any. She enjoys being around her family.Don Juan attends a party in the town, determined to make some money with his gamecock. He places a bet on it, but he loses before Isauro. He gets a debt that he can't afford to pay, but Isauro takes advantage on the situation and offers him to call off his debt in exchange for his older daughter, María… and Don Juan takes his offer.

When she learns that she must move in with a man she doesn't want to live with, María decides to leave her life behind and escape to the capital city. All she has there is her friend Pina, who helps her get a job as maid.

María works very hard, thus, when her birthday comes, Pina practically yanks her out to get distracted and celebrate her arrival to adulthood in Xochimilco. Alejandro meets her there; he gets mesmerized by her beauty and starts courting her.
Pina acknowledges her friend is falling in love with Alejandro and she introduces her to a young man whom she considers to be a better catch for her: Professor Cristóbal. He is a good-hearted man who teaches her how to read and write and, over time, he grows fond of her. Meanwhile, Alejandro makes use of promises that he is not planning to keep to take advantage of María's innocence. She never had a boyfriend before, so she surrenders to him. She hopes to marry him when she learns she is pregnant, but Alejandro refuses to do so, arguing that he must finish his studies. Angry, María decides to raise her child on her own. When her baby is born, María is jobless and homeless as well, but she finds a home in Doña Felicitas' tenement; she is Cristóbal's mother. There, she starts studying tailoring and dressmaking, a trade that will build her future.

María also comes across with Vanessa's hostility. She is Alejandro's sister, who will do anything in her power to prevent them from being together.

María and Alejandro share a son and a love they can't leave behind, but he always prefers to please his father. Cristóbal reproaches Alejandro for fooling María…but he doesn't dare to confess his own love for her.

Despite all hardships, María is not a submissive woman, she is ready to face all the obstacles in her life and, even though it won't be so easy, she will find the way to overcome them, get ahead with her son, and be happy. She is a strong girl with a pure heart, she is a role model woman, she is Simply María.
© 2023 Latin Times. All rights reserved. Do not reproduce without permission.