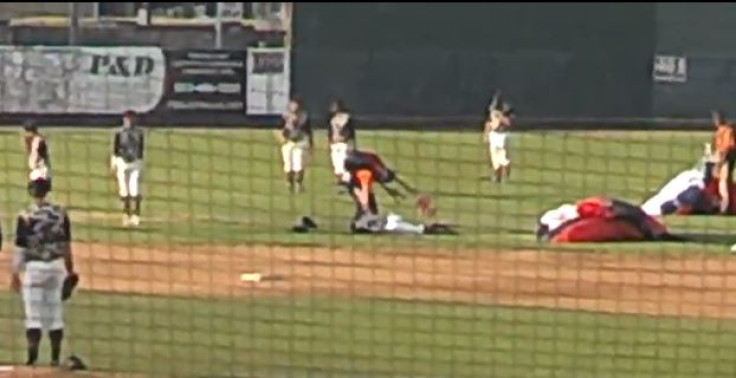 A shortstop on the summer league team the Hannibal Cavemen caught more than he bargained for when a skydiver hit the player giving him a concussion. Mattingly Romanin will be out for the season following his encounter with the skydiver.
The minor league baseball player was getting ready for a game when the skydiver crashed into him, kicking him in the face and knocking him down. The accident occurred just moments before the first pitch was about to be thrown.
There were three skydivers about to land on the field, the first landed without any issues but the second was not so lucky. The skydivers were floating over the field in an attempt to deliver the game ball with some drama and flair.
The players were told to stand still and not to worry about the skydiver crashing into them. One of the spectators at the game recorded the moment Romanin and the skydiver collided. The video was uploaded to YouTube and at last glance has 1,537,238 views.
The second skydiver walked away unharmed and Romanin was left with a few cuts and bruises as well as a concussion. Romanin went on Twitter and joked about the events of the day.
"They told us not to move and they won't hit us...guess not," he tweeted. "I feel like I got kicked in the face yesterday, oh wait..." Romanin joked.
Romanin was happy to have survived his encounter with the skydiver but express sorrow on Twitter that his Oakleys sunglasses were not as lucky.
HOT NEWS NOW:
'Son's Of Anarchy' Season 6 Premier Date On FX Sept. 10 With Special 90-Minute Episode [VIDEO AND POLL]
Immigration Reform 2013: House And Senate Lawmakers On Tour Of NYC Immigration Sites
George H.W Bush Shaves Head To Support 2-Year-Old Cancer Patient [PHOTOS]
Family Rescued By George Zimmerman Cancels Press Conference Out Of Fear [VIDEO]
© 2023 Latin Times. All rights reserved. Do not reproduce without permission.