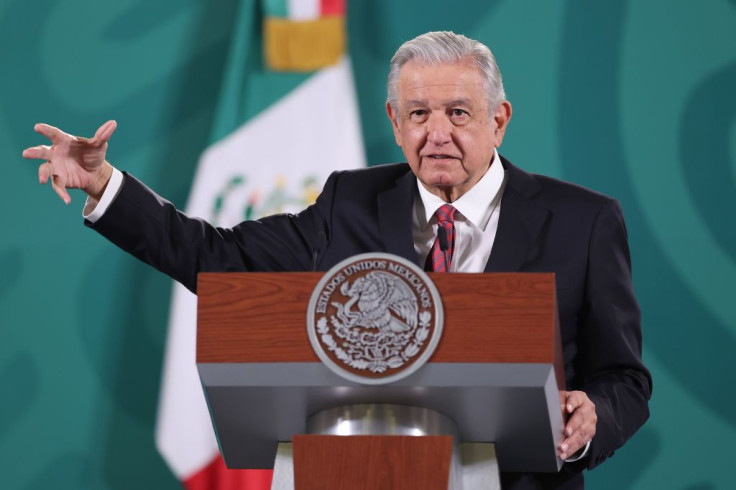 The slayings of five men captured on security camera footage in Mexico were described by the country's president as a possible "execution" by soldiers.
He also pledged on Wednesday that those responsible for the act would be held accountable.
President Andrés Manuel López Obrador, a firm advocate of the armed forces, has consistently emphasized that his administration has eradicated any previous inclination towards human rights violations.
On Wednesday, he condemned the slayings in a northern border city last month as unacceptable and announced that the soldiers involved would be handed over for prosecution.
Recently released footage from a store's security camera depicts a black pickup truck colliding forcefully into a wall in Nuevo Laredo.
Subsequently, a Mexican military truck, which appeared to be pursuing it, arrived and crashed into the passenger side of the pickup.
The individuals inside the truck were forcefully pulled out, physically assaulted, and pressed against a wall. They were later discovered deceased.
"Apparently this was an execution, and that cannot be permitted," López Obrador said at his daily news briefing. "Those responsible are about to be turned over to the appropriate authorities."
López Obrador has granted the military an unprecedented level of involvement in various areas, ranging from law enforcement to infrastructure projects, including the operation of trains and airports, AP News reported.
While he staunchly defends the army's integrity, there are persistent complaints of human rights violations, particularly in Nuevo Laredo, situated across from Laredo, Texas.
The Defense Department released a statement on Tuesday night, stating that it was collaborating with civilian prosecutors in the case and had initiated an investigation into potential breaches of the military code.
According to Mexican law, instances of soldiers engaging in misconduct towards civilians are handled by civilian courts.
The video, which was initially reported by Univision, a U.S.-based network, and Spain's El Pais newspaper on Tuesday evening, seemingly consists of security camera footage capturing the incident that occurred during daylight hours in Nuevo Laredo.
Following a pursuit and collision with the pickup truck, soldiers forcibly remove five men from the vehicle, disarm them, and subject them to kicks before positioning them in a row against the wall.
Subsequently, the soldiers turn their attention back toward the road and seem to discharge their firearms, while the individuals who supposedly instigated the attack remain outside the camera's field of view.
Some soldiers, taking cover behind the pickup truck, direct their weapons toward the men positioned against the wall.
Later on, the soldiers navigate the scene in a composed manner. One of them, utilizing a red bag to potentially avoid leaving behind fingerprints, retrieves firearms and places them adjacent to the lifeless bodies.
This incident marks at least the second instance of apparent extrajudicial killings in Nuevo Laredo this year. On Feb. 26, soldiers fatally shot five young men who were traveling in a vehicle.
According to a report by Mexico's governmental human rights agency, the men appeared to be unarmed, and the soldiers fired at the vehicle without issuing verbal orders to stop.
This led to angry neighbors attacking the soldiers and physically assaulting some of them.
In April, federal prosecutors charged four soldiers involved in the incident with homicide.
During the same month, a human rights organization in Nuevo Laredo lodged a formal complaint with President Andrés Manuel López Obrador.
The complaint detailed an account from a man who claimed that Mexican National Guard troops had fired at his vehicle in Nuevo Laredo, resulting in the death of his 15-year-old pregnant girlfriend and a 54-year-old friend, as well as injuring two others.
A law enforcement crime scene report largely supported the narrative of the shooting as described in the complaint.
López Obrador asserts that the army has undergone changes since the killing of 22 suspects at a grain warehouse in Tlatlaya, located in the State of Mexico, in 2014.
While some of the 22 suspects died in an initial shootout with an army patrol, during which one soldier was wounded, a human rights investigation revealed that at least eight and possibly up to a dozen suspects were executed after surrendering.
Seven soldiers were initially arrested but were later released, only to be rearrested years later on charges of abuse of authority.
© 2023 Latin Times. All rights reserved. Do not reproduce without permission.