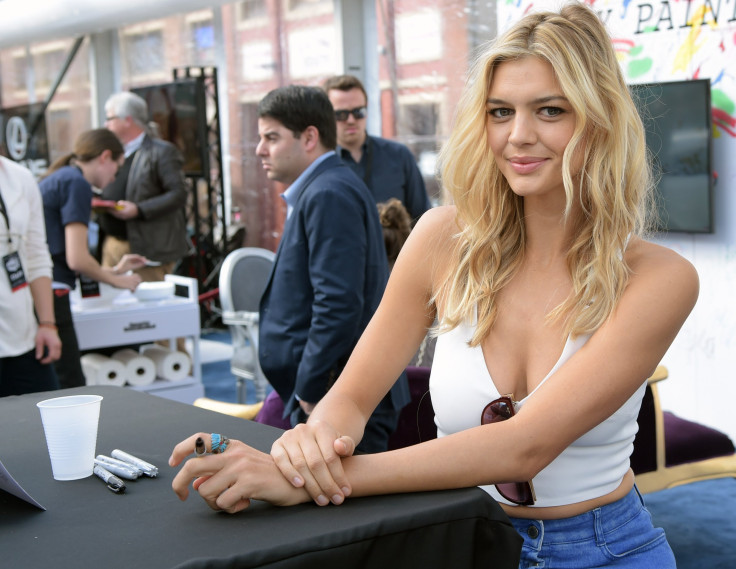 Stardom can be a peculiar thing. One minute, you're struggling as an actress in the entertainment capital of the world. The next, you're gracing the pages of one of the world's most prestigious magazines. For actress turned model, Kelly Rohrbach, her story seems straight out of a fairy tale than that of the Sports Illustrated swimsuit edition. However, that is exactly where this Connecticut beauty landed after a friend suggested she try her hand at modeling.
Weeks later, she was on a beach in Big Sur nervously choosing between bathing suits for the first modeling shoot of her career. The shoot was for the magazine that is credited with inventing the bikini and generates an estimated $50 million in advertising the Sports Illustrated Swimsuit Edition. From that moment forward, her life would change and now months later, her whirlwind tour continues.
She was just announced as the Sports Illustrated's 2015 Rookie of the Year, an honor bestowed upon the likes of Chrissy Teigen, Nina Agdal, and Kate Upton. She is currently starring in an Old Navy commercial alongside, Julia Louis-Dreyfus of Seinfeld and Veep fame and has numerous acting opportunities on the horizon. Rohrbach currently resides in New York, but we caught up with her in-between shoots in Los Angeles this weekend to ask her about golf, Georgetown basketball, and to give us a behind the scenes look at one of the sexiest swimsuit photo shoots we've ever seen.
Latin Times: You are currently in the running for Sports Illustrated's 2015 Rookie of the Year, past nominees and winners include, Chrissy Teigen, Hannah Davis, Kate Upton and Nina Agdal, what would it mean for you to be included with these names should you take home the prize?
Kelly Rohrbach: It's pretty cool. It would be pretty exciting to go from having never done any modeling to Rookie of the Year. It would be a nice personal accomplishment.
LT: Another one of your competitors in the Rookie of the Year contest is Robyn Lawley. Robyn is the first plus-sized model ever featured in Sports Illustrated, did you get a chance to meet her and talk with her, and what can you tell us about her accomplishment?
KR: First of all I didn't know she was a "plus-sized" model to be honest, but, now that I do, 'Go Robyn!' Good for her. That's one of Sports Illustrated's strong suits. They embrace women; they want healthy, beautiful, athletic, real women. So this is the evolution of that and I think that's amazing. They are being true to their brand.
LT: Tell us what you loved the most about working with Sports Illustrated?
KR: The people, they are a really nice group of people.
LT: Where was your shoot for Sports Illustrated, and what was your favorite part about it?
KR: I was in Big Sur. My favorite thing about it was that it was in California. I love California. I'm from Connecticut, but I'm a California girl at heart. So when they told me I was shooting in Big Sur, everyone was like: 'That stinks you're not going to a deserted island or Fiji.' But, it was perfect, it was serendipitous, and it's a beautiful moment and I felt at home.
LT: Your swimsuit was very interesting in the pages of the magazine, was it your choice to wear that swimsuit? How does the selection of swimsuits work on set? Do you have to wear what they tell you to wear, or do you have some say in it?
KR: You actually have a little say to be honest. My theme was blue, so everything they put me in was blue. MJ [M.J. Day] , the Editor, would hold one up and say, 'Do you like A or B?' and I was like 'B'. So I had a little say. If I put one on and I didn't like it she would say, 'Alright, don't wear it.'
LT: How many different suits or looks did you end up shooting?
KR: Maybe 10? More than that actually, 15 maybe?
LT: There's a lot of controversy surrounding the cover of the issue. A lot of people believe that Hannah Davis' cover photo is a little too risqué. What are your thoughts on it?
KR: I think she looks great. Sports Illustrated pushes boundaries, that's who they are. They're pushing a boundary. Who doesn't like their boundaries pushed? Boundaries are meant to be pushed. I love it.
LT: Now as the Sports Editor of Latin Times, I have to ask you a few sports related questions. I know you went to Georgetown and were on the golf team, so tell us what sport is your favorite and if it's golf what you love about it?
KR: It is golf! I love the outdoors and it's a really good way for me to spend time with my Dad. It's a patient sport, it's a long game, people say, 'Life is like a game of golf' and it's so true. There are so many lessons to be learned. It's a great way to get to know someone. If you have played a round of golf with someone, you might as well have known them for two years. You can really get a feel on people. You can get better with age, and all these wonderful things. I think it has something to offer.
LT: Who's your favorite golfer?
KR: I like Bubba Watson. I like him a lot, he seems cool.
LT: Do you think Tiger Woods will ever win another major? Or is his career most likely done?
KR: I'm indifferent to Tiger Woods. He's amazing, but I never got on that train. He's certainly a very competitive man, I wouldn't be surprised if he found it within himself to get there again, it wouldn't surprise me at all, but it might take him a while, the problem now is probably his mental game.
LT: How do you think Georgetown is going to do in the NCAA Tournament next month and who do you think wins it all?
KR: Georgetown, Duh.
LT: There's a lot of Latinos here in Los Angeles, and we're going to try and make them all "Kelly" fans, so tell us some of your favorite places here to go to here in LA?
KR: I love the beach, so anything by the water. I go to Malibu a lot. I love Malibu Pier. I love the Country Mart and Malibu Kitchen. Malibu Seafood is the best place, it's a little shack on the side of the road with the most amazing seafood, the calamari there is crazy.
© 2023 Latin Times. All rights reserved. Do not reproduce without permission.