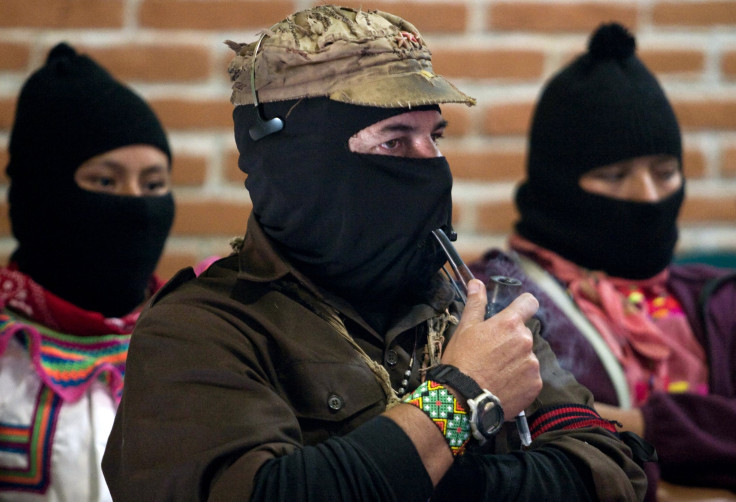 La Jornada reports that as the Zapatista Army of National Liberation (EZLN) prepares to celebrate its 20th anniversary in the southeastern Mexican state of Chiapas, Subcomandante Marcos has released a new communique reflecting on how the history of the Zapatistas – and other Mexican political figures – has been written. Marcos dedicates the bulk of his derision to whom he calls "the criminals of the Mexican political class", but reserves plenty for "the for-pay press." The paper notes that members of the press will not be permitted to attend commemorations of the Jan. 1, 1994 uprising, during which the rebel group emerged from the Lacandon Jungle and captured several towns, including the city of San Cristobal.
While historiography, the Zapatista spokesman writes, "feeds off of individualities, history learns from peoples." But the "criminals of the Mexican political class...will go on being, for those who have suffered their outrages, unpunished criminals", he wrote. "It doesn't matter how many lines are paid off in the 'item' media, nor how much is spent on spectacles in the streets, the written press, the radio and television." For Marcos, that group of criminals runs from earlier authoritarians like Porfirio and Gustavo Díaz to include the last two Mexican presidents, Felipe Calderón and Enrique Peña Nieto.
Anticipating inquiries as to what has changed in quality of lives in the now-autonomous communities of Chiapas since the 1994 uprising, Marcos gestured to the August 2013 opening of the Little School or Escuelita, a project which saw some 1,500 international activists invited to study the Zapatistas while living with host families. "If the conditions of the indigenous Zapatista communities are the same as they were 20 years ago and nothing has advanced in their quality of life, why is the EZLN – as it did in 1994 with the for-pay press – 'open up' with the Little School so that people from the bottom could come see for themselves, without intermediaries?"
As for the Zapatistas' refusal to admit the press to the 20th anniversary celebrations, Marcos asks, "What have they done to make being a member of the media become a source of pride which doesn't come at the expense of the loss of the freedom or the life of being honest? Can they say that their work is more respected by those who govern or are governed than it was 20 years ago? What have they done against the imposed or tolerated censorship? Can they say that their readers or listeners or viewers are better informed than they were 20 years ago? Can they say they have more credibility than 20 years ago?"
© 2023 Latin Times. All rights reserved. Do not reproduce without permission.