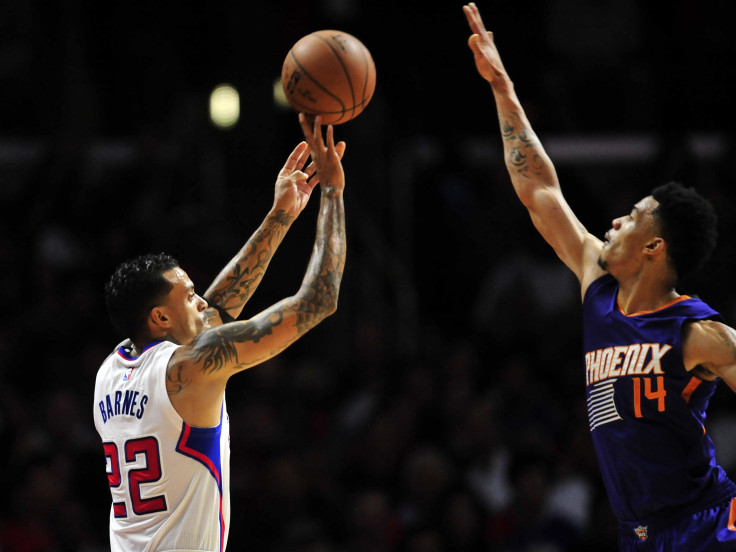 LOS ANGELES – The Clippers beat the Suns at their own game.
Combining fast break points, three pointers and a 42-point third quarter, the Los Angeles Clippers defeated the Phoenix Suns 120 – 107 on Saturday at Staples Center.
"We ran our offense well," said Blake Griffin who had 19 points and 8 rebounds in the game. "It is amazing how much better your offense runs when you are getting stops and getting out and getting some easy baskets. It was a good game for us."
The Clippers opened the third quarter on a 22-5 run thanks to the PF duo of Blake Griffin and Spencer Hawes. Chris Paul added 32 points, 5 assists and 5 three-pointers and the Clippers went 14 for 28 from behind the arc to outshoot the Suns in a facet of the game that is normally their strong suit.
DeAndre Jordan was the defensive star of the game as he contributed 12 points, 18 rebounds and 7 blocks.
"He was a one man wrecking crew. It felt like he had 30 blocked shots. He has been good all year defensively, but this, this was a Picasso," said Clippers coach Doc Rivers.
Gerald Green had 26 points and 4 three-pointers to lead the Suns who fell to .500 on the season.
The Suns made a late push in the 4th quarter to bring the game within 11, but Chris Paul scored 12 points in the final five minutes of the game and the Clippers were able to hang and eclipse the Suns.
"I have the ball in my hands a ton throughout the game. I tried to get to the lane, make a few layups and be aggressive," said Paul after the game about picking that spot in the game to take over.
Matt Barnes received his second technical foul with 4:27 left to go in the game and was ejected. Minutes later, Gerald Green was given a second technical foul and ejected from the game as well.
The Suns Achilles heel coming into the game was their inability to defend the three and it bit them once again as they surrendered 14 threes to the hot-shooting Clips.
"They made three or four threes right to start the half that were uncontested, and they kept going from there," said Phoenix Suns head coach Jeff Hornacek.
The Clippers will have a big test for them on Monday night when the Chicago Bulls come to town. Rivers former assistant Tom Thibodeau coaches the Bulls, who Rivers joked after the game would be buying him dinner on Sunday.
Game Notes:
DeAndre Jordan recorded his 3,500th career rebound in the game. Rapper/Actor "The Game" was in attendance at Staples Center as well as Billy Crystal and Clippers new owner Steve Ballmer.
© 2023 Latin Times. All rights reserved. Do not reproduce without permission.