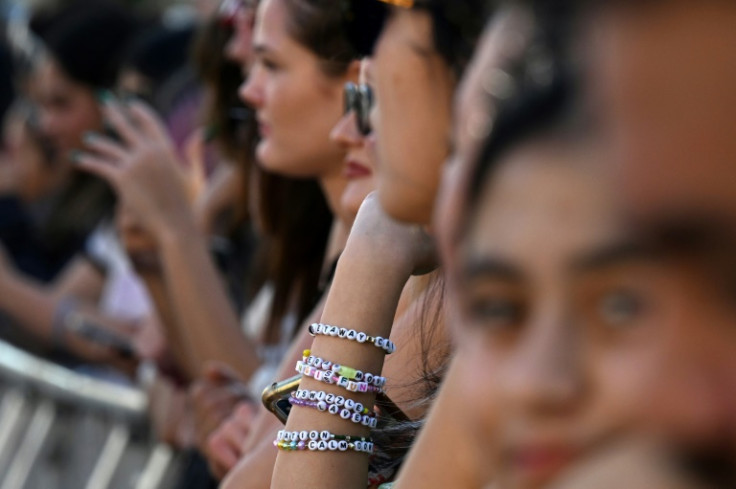 American superstar Taylor Swift on Saturday postponed a show in Rio de Janeiro due to extreme heat, after a fan died at the singer's concert the previous night.
Saturday's postponement came after the heat index in the city had risen to as high as 59 degrees Celsius (138 Fahrenheit) Friday, when a 23-year-old fan in the crowd of 60,000 died during the first "Eras Tour" show in Brazil.
"I'm writing this from my dressing room in the stadium," Swift posted on Instagram Saturday. "The decision has been made to postpone tonight's show due to extreme temperatures in Rio."
"The safety and well-being of my fans, fellow performers and crew has to and always will come first," she added.
Swift could be seen in videos posted to social media from the night before trying to help fans by dispatching aides to pass out water bottles and even throwing one to the audience herself.
According to local media outlets, Ana Clara Benevides went into cardiac arrest at the Nilton Santos Stadium before the concert began. After getting CPR for about 40 minutes, Benevides was believed to had stabilized and was taken to a hospital. However, she suffered a second episode while in the ambulance.
Swift took to Instagram after learning the news, expressing her condolences in a story: "I can't believe I'm writing these words, but it is with a shattered heart that I say we lost a fan earlier tonight before my show. I can't even tell you how devastated I am by this. There's very little information I have other than the fact that she was so incredibly beautiful and far too young," says part of the message.
"I'm not going to be able to speak about this from stage because I feel overwhelmed by grief when I even try to talk about it. I want to say now I feel this loss deeply and my broken heart goes out to her family and friends. This is the last thing I ever thought would happen when we decided to bring this tour to Brazil," she added.
According to Spanish media outlet La Vanguardia, temperatures at the Nilton Santos stadium reached 62 degrees Celsius, potentially endangering thousands of concertgoers. Swift herself left the stage with a cold cloth on her forehead.
Water bottles sold and distributed in the stadium were not enough for the increased needs as a result of the temperature. The situation was noticed by Swift during the performance after fans started asking her for water. This led her to direct her team to distribute bottles.
About a thousand fans passed out in the stadium where Swift performed, as the temperature in the coastal city clocked in above 42 degrees Celsius but felt over 50 in some neighborhoods. The whole country has been experiencing a scorching heatwave during the past days, and authorities have warned about the "high danger" posed by the high temperatures.
Meteorologist Caetano Mancini said the heatwave is "mainly due to a strong El Niño, which we have seen mostly in June and July, and which as intensified lately. We're now reaching its peak. It is a main cause of this event."
--With information from AFP
© 2023 Latin Times. All rights reserved. Do not reproduce without permission.