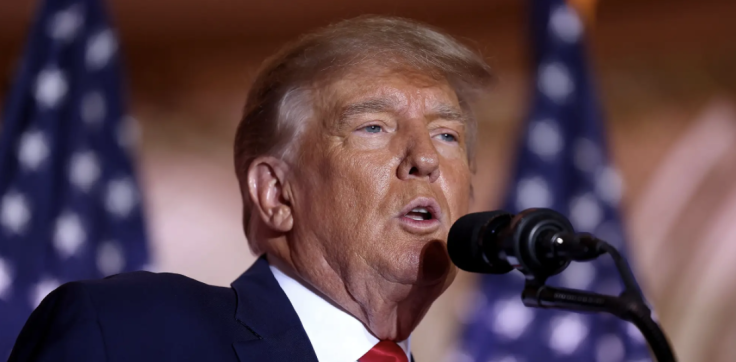 When former president Donald Trump made fun of Florida Governor and potential presidential rival Ron DeSantis on Saturday, the raucous audience at his Waco, Texas, gathering didn't show him any love.
Speaking to his supporters, Trump recalled how DeSantis approached him for support in the 2018 governor's election, telling them the Florida Republican had "tears in his eyes" when he approached him.
In the end, the former president hailed himself as DeSantis' rescuer, asserting that it was his support that ensured the Florida governor's victory.
The crowds, however, were unusually quiet as Trump imitated DeSantis in a pleading manner instead of cheering as they usually did when he attacked opponents like Hillary Clinton or Ted Cruz.
Given that both Trump and DeSantis are expected to be the front-runners for the GOP's 2024 presidential nomination, the episode is merely the most recent in a string of jabs between the two.
Even though the crowd was cheering for Trump because of his lead in recent polls, he got a cold reception.
The former president seized the opportunity to disparage his former friend at that time, branding him a crony who was "begging for an endorsement" in 2018.
"So, he came, and he really wanted [my endorsement]," Trump recalled. "I said, 'You can't win, can you? How do you – can [you] win?'"
Imitating DeSantis in a mocking tone, Trump said: "'Sir, if you endorse me, I'll win. Please, please, sir, endorse me," New York Post reported.
Even Trump's accusations that DeSantis was "not good" on crime were met with silence, and the audience didn't resume their normal behavior until he stopped criticizing his opponent.
Trump said it was unfortunate he didn't know Adam Putnam, DeSantis' GOP opponent, better and that he would have been better off supporting him.
"I said, 'Let's give it a shot, Ron,' " Trump added. "I did rallies for Ron, massive rallies, and they were very successful. So we got him the nomination. We then got him the election."
"Two years later, the fake news is up there saying, 'Will you run?' And [DeSantis] says, "I have no comment."
"I say, 'That's not supposed to happen," the former president stated, seemingly feeling betrayed by DeSantis' possible candidacy.
Along with the mocking comments, Trump went on to criticize DeSantis for his Social Security and Medicare records.
He also criticized the Florida governor for reopening his state earlier than the rest of the country when the previous president declared a national emergency due to the COVID-19 epidemic.
Prior to DeSantis' election, Florida was in excellent condition, according to Trump, who even implied that things were better.
"Remember one thing: Florida has been tremendously successful for many years, long before this guy became governor," Trump said. "Florida was tremendously successful under Rick Scott. ... [And] whether you like him or not, Charlie Crist was very successful, he was a Republican at the time.
"But Florida has been successful for decades, in fact, probably as or more successful than it is now."
An immediate response to The Post's request for feedback was not received from DeSantis' office.
© 2023 Latin Times. All rights reserved. Do not reproduce without permission.