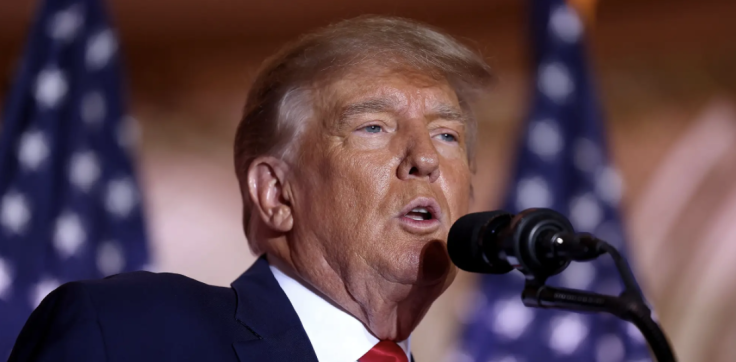 While he was campaigning for president in 2024, former President Donald Trump attended a CNN town hall on Wednesday in New Hampshire.
Trump took part in the event moderated by anchor Kaitlan Collins and fielded questions from local Republicans as well as undecided voters at St. Anselm College.
"Donald Trump says he would end the war in Ukraine in 24 hours tonight on CNN. Despite how ridiculous that is to say, I suspect he would try to do it by turning Ukraine over to Putin and Russia. #Putin'sPuppet" Former Republican New Jersey Gov. Chris Christie wrote on Twitter.
In response to Donald Trump's assertion that he would put an end to the conflict in Ukraine in "24 hours" if re-elected, Christie suggested on Wednesday that the former president would permit Russia to annex Ukraine.
Trump omitted a description of his proposed strategy for negotiating the end of the war.
Christie, an outspoken Trump critic, also cited Trump's refusal to say that he wanted Ukraine to prevail in the conflict as "more proof that he continues to be Putin's puppet."
Florida Gov. Ron DeSantis' expected White House run called former President Trump's CNN town hall "an hour of nonsense."
"On the same day Ron DeSantis was assailing Joe Biden's border crisis, Donald Trump was on CNN attacking DeSantis and lying about finishing the border wall," Erin Perrine of Never Back Down said in a statement.
"The CNN townhall was, as expected, over an hour of nonsense that proved Trump is stuck in the past. After 76 years, Trump still doesn't know where he stands on important conservative issues like supporting life and the Second Amendment. How does that Make America Great Again?"
Before the often-contentious town hall before New Hampshire voters, Never Back Down called the CNN event with Trump a "true marriage of equals."
"A candidate who has lost his luster appearing on a network that's lost its ratings. Both ignore a key fact: 2024 isn't 2016. The old gimmicks and tired lines don't work anymore," CEO Chris Jankowski said.
Donald Trump's campaign released a statement following his hour-long CNN town hall Wednesday night that formally kicked off the Republican primary competition ahead of the 2024 presidential election.
"Tonight, President Donald J. Trump laid out his vision to reverse the Biden Decline starting on Day One," his campaign said.
"Joe Biden has turned everything into a disaster: inflation, the economy, the border, crime, energy, China, Russia and wokeness in schools.
"President Trump will save the economy, bring down inflation, secure the border, crush the Deep State and prevent World War 3.
The campaign added that he is "the only one who can stop the forces from destroying our country —anyone else will be ripped to shreds."
"They have lost total control of this 'town hall' to again be manipulated into platforming election disinformation, defenses of Jan 6th, and a public attack on a sexual abuse victim. The audience is cheering him on and laughing at the host," New York House Rep. Alexandria Ocasio-Cortez said, New York Post reported.
MSNBC host Mehdi Hasan also blasted.
New York Times' 1619 Project author Nikole Hannah-Jones said CNN was "massively ill-equipped for this."
Daily Beast's Washington Bureau Chief Matt Fuller called it an "irresponsible disaster of journalism."
A clearly angry Donald Trump labeled CNN presenter Kaitlan Collins "a nasty woman" when she continued to push him about the documents that were seized during a raid on his Mar-a-Lago home in August.
Trump claimed he had "every right" to possess the records under the Presidential Records Act, but Collins, at points trying to talk over him, told him several times "that's not true."
When she asked if he had shown the records to anyone, Trump replied, "Not really," and when Collins pressed him again, the former president said, "Not that I can think of."
She asked Trump why "you held on to those documents when you knew the federal government was seeking them and given you a subpoena to return them?"
"Can I talk? Do you mind?" Trump snapped, "It's very simple to answer."
"That's why I asked it," Collins responded.
"You are a nasty person, I tell you," he told Collins.
Trump refused to call Russian President Vladimir Putin a war criminal on Wednesday and boasted that the Russian invasion of Ukraine would have never happened if he were still in the White House.
"If I were president, this would have never happened. And even the Democrats admit that Putin knew it would have never happened," Trump claimed.
"If I'm president, I will have that war settled in one day — 24 hours," he asserted, without saying how he would end the conflict.
"Do you believe that Putin is a war criminal?" CNN moderator Kaitlin Collins asked.
"This should not be discussed now. It should be discussed later. Because right now we have to get a war – if you say he's a war criminal it is going to be a lot tougher to make a deal," Trump argued.
Trump would not rule out re-implementing an immigration policy that was in place during his administration that separated families at the border as a deterrent, pointing to the dire situation in New York City.
"Look at New York City. They're living in Central Park in New York City," Trump claimed during Wednesday night's town hall event in New Hampshire," Trump said.
"The city is being swamped, Los Angeles is being swamped, Iowa is being swamped our whole country is getting destroyed."
Trump claimed that the Manhattan federal trial that found him liable for sexual abuse and defamation against author E. Jean Carroll was rigged.
He said Wednesday that he doesn't owe former Vice President Mike Pence an apology for possibly putting his life at risk during the Capitol riot on Jan. 6, 2021.
CNN plans to offer former chief White House correspondent Kaitlan Collins the primetime 9 p.m. timeslot and a new contract, a report said Wednesday.
© 2023 Latin Times. All rights reserved. Do not reproduce without permission.