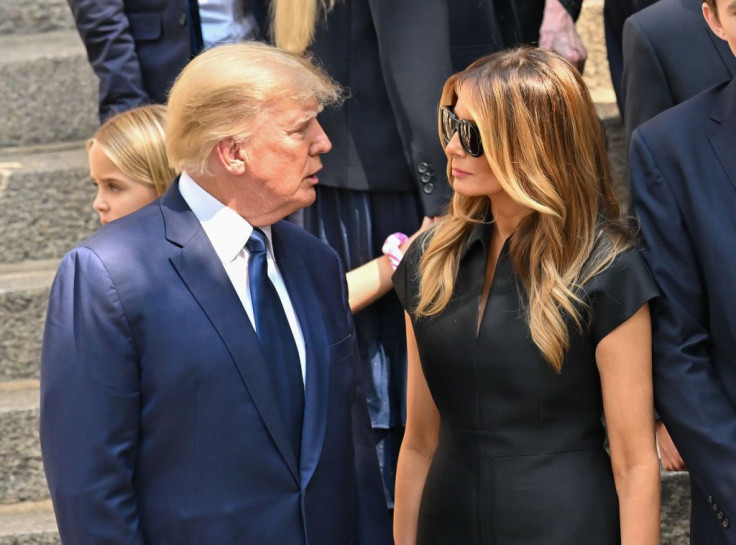 Former President Donald Trump has been in the news related to the hush money case.
On Monday evening, he was clicked entering his Trump Tower skyscraper in New York. Then he was seen on Tuesday while he was heading to a Manhattan court to face criminal charges. Then also he cut a solitary figure, reported The Guardian.
He pleaded not guilty to more than 30 charges accusing him of concealing hush-money payments to an adult film star and an ex-Playboy model while he was married to Melania, who is still his wife.
Melania was also absent from Mar-a-Lago's ballroom Tuesday night as her husband delivered his first public speech hours after the arraignment.
The 76-year-old, who has become the first former President in U.S. history to be arraigned on criminal charges, said that he has a great family and they have "done a fantastic job and we appreciate it very much." He told around 400 of his supporters at his Palm Beach, Florida, residence and club that his family has "gone through a lot."
He said he has a son, Donald Jr., who "has done a great job." Then he referred to his other son Eric, who he said also did "a great job."
He also mentioned his daughter Ivanka and said that his youngest son "Barron will be great someday."
Amid all the praises, he did not single out Melania, reported New York Post.
Donald Jr., Eric and Tiffany attended their father's speech but Ivanka and her husband Jared Kushner were in Wyoming Tuesday. They were there to celebrate Passover, which is the Jewish holiday that begins on sundown Wednesday.
But Ivanka saw her father in person Sunday. She and Kushner are "supporting Trump as family members in private," said a source.
As for Melania, she was last seen with her husband last week. The two were seen dining at Mar-a-Lago not long after a grand jury in Manhattan voted to indict Trump.
The couple was "shocked" upon hearing the news that he had been indicted, sources tell PEOPLE.
A source said that they weren't expecting it, but "Melania will support him, and that's what she does."
The source shared that she is upset and angry about the indictment, but not devastated.
© 2023 Latin Times. All rights reserved. Do not reproduce without permission.