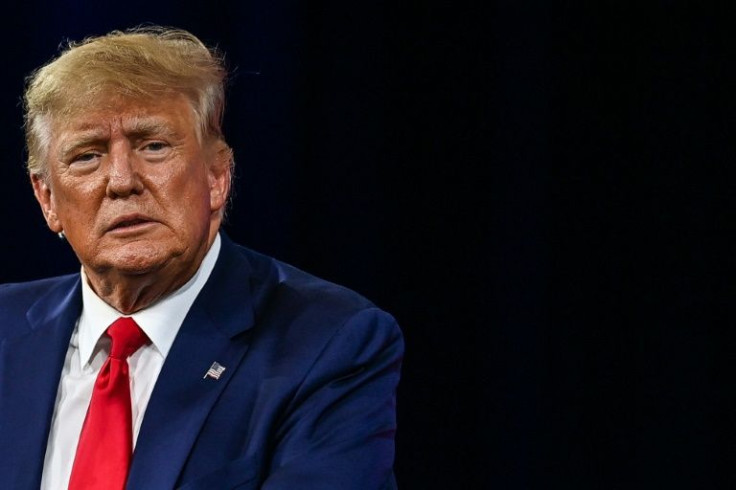 After spending years battling in court, former President Donald Trump and porn star Stormy Daniels are selling merchandise.
On Thursday, a grand jury in Manhattan voted to indict the former President. It was in connection with a $130,000 hush money payment to Daniels, reported BBC.
He may face over 30 low-level felony charges that are related to fraud, and the combined maximum sentence for these charges is four years in jail. Though a judge could also give him no prison time, as per Business Insider.
Daniels alleged that she and Trump had an affair in 2006, but he denied that they had sex.
Soon after the charges were reported, Trump's team sent a fundraising email.
He said that this "witch hunt will backfire massively," and that with his followers' support, they will "write the next great chapter of American history - and 2024 will forever go down as the year we saved our Republic."
The message also asked people for money and offered a T-shirt for donations of $47 or more. It had the words "I stand with Trump." His campaign team claimed that the T-shirts were "flying off shelves." They said that it raised more than $4 million in the first 24 hours after it Trump's indictment was reported last week.
Daniels has also benefitted from the case.
After charges were announced on Thursday, Daniels tweeted that orders for "#Teamstormy merch/authograph[s]" were "pouring in."
She thanked everyone for their "support and love!"
Her website has merchandise, including T-shirts worth $20, with the words "#TEAMSTORMY." There are signed posters of herself posing in lingerie. There is also a $30 dog chew toy that looks like the former President.
On Wednesday, during a live stream on OnlyFans, she defended herself from criticism that she was trying to profit off the affair.
She said that everybody that has a business sells merchandise, that's actually "kind of brilliant." Referring to Trump, she asked, "Why is it okay for him and it's not okay for me?"
Apart from these two, merchandise vendor Ronald Solomon was selling Trump-themed hats and T-shirts outside the former President's Florida estate Mar-a-Lago. He said that the sales of the products had gone up after the indictment.
© 2023 Latin Times. All rights reserved. Do not reproduce without permission.